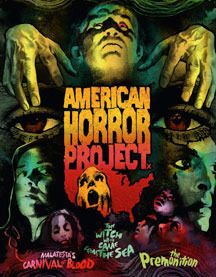 Arrow Video
, the Gods of Cult film, have just released their first collection in hopefully a long line of little known American Horror films - The American Horror Project: Volume 1. Focusing on the mid-70's, this collection of three rarely seen, fairly low budget treats will surely pique the interest of those who think they've seen everything. I would consider myself one of these people and I had only heard of one of the films in this collection before reading about it.
The first film, Malatesta's Carnival of Blood (1973), is definitely the lowest budget (and most inept) film in the collection. The story makes little sense so I'll keep it brief. Family gets swindled into buying a carnival which is inhabited by cannibalistic ghouls. One sentence. Wow, I'm good. Featuring the unmistakable Herve Villechaize just one year before starring in the James Bond film The Man with the Golden Gun, this film had no one else I had ever heard of...or so I thought. Reading through the cast after watching this film I was dumbfounded when I realized that Lenny Baker, the star of the brilliant Next Stop, Greenwich Village was in it (in Gypsy drag). Also, as Malatesta himself, we have Daniel Dietrich whose other two film credits just happen to be two of my favorite films (Dawn of the Dead and Andy Milligan's Fleshpot on 42nd Street). Hmm. Maybe I didn't give this film a fair shake. Calling this film low budget is actually an understatement. The cast seem like inpatients putting on a show at the mental ward, where the first take is always used. That being said, I get a real hard on over bad, regional, 70's horror films. And though there were parts that made paint drying seem fast paced, following the characters through an old abandoned amusement park was actually eye candy to me (I get a hard on over abandoned amusement parks. Hell, I get hard ons over a lot of things). I think by now you get the gist of whether this film will work for you. It's really bad, but bad enough to be entertaining.
The next film, The Premonition (1976), was the one I was most interested in before watching, based solely on the second billing of one of my favorite character actors, Richard Lynch. Lynch has played everything from a sword wielding villain (The Barbarians...oh and Sword and the Sorcerer...oh and Deathsport), a biker (Ninth Configuration), an inmate who tries to rape Al Pacino (Scarecrows), a Russian terrorist (Invasion USA), a hermaphroditic alien (God Told Me To)...Christ this guy has done everything! Well, in this film he plays a circus performer who, along with his crazy girlfriend, try to kidnap her daughter from the child's adopted parents. Oh and a few of the characters have metaphysical powers, which make weird stuff happen. Though the film takes a while to really get going (first half hour), the rest is an interesting take on the supernatural and though hardly a real horror film, its very watchable and original.
Lastly, we have what I would call the best of the bunch - The Witch Who Came from the Sea (1976). Starring Millie Perkins (The Diary of Anne Frank) as a loving aunt who tells her nephews fantastic stories about their grandfather, a brave sea captain. What we soon find out is that Millie's stories aren't what they seem and after being abused as a child, she has been left with a damaged psyche (and a drinking problem). Fantasies start becoming reality and soon the police are on the hunt for someone killing men in sick and perverted ways. Perkins is fantastic as the batshit crazy Aunt Molly and the film itself is also quite original. I'd say its a horror film in the way that Taxi Driver and Driller Killer were, more than Halloween or Nightmare on Elm Street. My only complaint about this film is that it was marketed to be something very different than it is (which made this the film I was initially the least interested in), but it turned out to be excellent.
Though these films may not all particularly be classics in their own right, they make for a very interesting collection. For those who think they've seen it all, this will show a very different side of underground US horror film making that many aren't familiar with. What really makes this collection interesting is how varied the films are - from a low budget, gore filled romp to a rather straight forward, supernatural film to a shocking, psychological character study. Of course since this is coming from Arrow, the set features an unbelievable amount of extra features and quality all around. I really can't wait to see what Volume 2 brings.
Bonus Features include:
-Brand new 2K restorations of the three features
-High Definition Blu-ray (1080p) and Standard DVD presentations
-English subtitles for the deaf and hard of hearing
-Reversible sleeves for each film featuring original and newly-commissioned artwork by the Twins of Evil
-American Horror Project Journal Volume I - Limited Edition 60-page booklet featuring new articles on the films from Kim Newman (Nightmare Movies), Kier-La Janisse (House of Psychotic Women) and Brian Albright (Regional Horror Films, 1958-1990)
-Brand new interview with director Christopher Speeth
-Brand new interview with writer Werner Liepolt
-Draft Script (BD/DVD-ROM content)
-Production stills gallery
-Audio commentary with director Matt Cimber, actress Millie Perkins and director of photography Dean Cundey
-Brand new interview with director Matt Cimber
-Brand new interview with Dean Cundey
-Brand new interview with actor John Goff
-Audio commentary with director-producer Robert Allen Schnitzer
-Brand new interview with composer Henry Mollicone
-Interview with actor Richard Lynch
-Three Robert Allen Schnitzer short films: 'Vernal Equinox', 'Terminal Point' and 'A Rumbling in the Land'
-4 'Peace Spots'
-Trailers and TV Spots
Purchase this set directly from MVD HERE