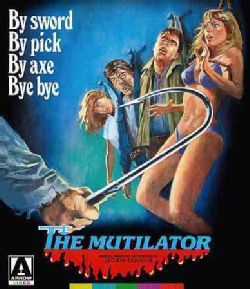 Just when I thought there can't be any more 80's slasher films I haven't seen, a great company like
Arrow
surprises me. The Mutilator, (originally titled Fall Break) is one such title. An obscure, zero budget film whose cover art no doubt lured many video fans to check it out, hoping for something as good (and gory) as Friday the 13th, Halloween or The Texas Chainsaw Massacre. I wish I could go back in time and see how this film would have stacked up back then to a young, virginal, horror lover. Now I definitely wouldn't call this film a classic like the other films mentioned, but it does have some things going for it.
The Mutilator tells the tale of young Bill, a boy who decides he'll make his dad happy by shining his shotgun for him. But whoops, he accidentally blows his mother away which causes his father to snap. Several years later, Bill gets a random call from his dad at a bar (did his dad know he frequented this bar?) to come and get his beach side house ready for the winter. So Bill's friends talk him into letting them come along for a road trip. Unfortunately, Bill's dad is still there...waiting.
First of all, I have to ask. Is Fall Break a thing? I've heard of Spring Break, Winter Break and Summer Break. But Fall Break? Is it like Thanksgiving break? I don't know why it even matters because nothing in this damn movie makes any sense. Why would a group of kids want to travel to a beach house in fall when it's too cold to go swimming? Oh wait, there is a random pool there with a heated bubble over it! That explains it. And why would Bill's dad lure his son to be slaughtered after years of being a highly functioning alcoholic who regularly hangs out with his drinking/hunting buddies? I can't answer these questions, but there is one question you are probably wondering that I can answer. Why should I watch this film? Well the answer is - GORE! For all of the film's nonsensical shortcomings, the gorey bits are expertly done by makeup maestro Mark Shostrom (Evil Dead 2, Nightmare on Elm St). Not to say that's ALL it has going for it. The characters are goofy and though I wouldn't call them loveable (or really even likeable), I didn't hate them. That's good, right? Above all though, this film is a perfect example of a first (and only) time film maker, getting some money together with a bunch of first (and only) time "actors" (or relatives as half of the people have the same last name as the director) and making a fun, silly horror movie. That's all it is, that's all it should be and if you take it seriously then you are missing the point.
Arrow's Blu Ray/DVD combo features pretty much everything you could ever want to know about The Mutilator. Interviews with pretty much everyone involved, commentaries, a neat booklet, great artwork...it's all here (and more). The picture quality is beyond amazing for such a low budget film and Arrow should be commended for doing this type of work on such a niche title. Full list of extras below:
Bonus Features include:
-Brand new 2K restoration of the unrated version from original vault materials
-High Definition Blu-ray (1080p) and Standard Definition DVD presentations
-Original mono 1.0 audio (uncompressed PCM on the Blu-ray
-Optional English subtitles for the deaf and hard of hearing
-Introduction to the film with writer-director Buddy Cooper and assistant special make-up effects artist/assistant editor Edmund Ferrell
-Audio Commentary with Cooper, Ferrell, co-director John Douglass and star Matt Mitler
-Audio Commentary with Buddy Cooper and star Ruth Martinez Tutterow
-Fall Breakers: The Story of The Mutilator – brand new feature-length documentary on the making of the splatter classic featuring interviews with Cooper, Douglass, Ferrell, Mitler, actors Bill Hitchcock, Jack Chatham and more
-Mutilator Memories – special make-up effects artist Mark Shostrom looks back at one of his earliest projects
-Tunes for the Dunes – composer Michael Minard reveals how The Mutilator's unique score was created
-Behind-the-Scenes Reel
-Screen Tests
-Alternate Opening Titles
-Trailers and TV Spots
-'Fall Break' Theme Song (Original and Instrumental Versions)
-Opening Sequence Storyboards
-Motion Stills Gallery
-Original Fall Break Screenplay (BD/DVD-ROM content)
-Reversible sleeve featuring two original artworks
Purchase this film directly from MVD HERE