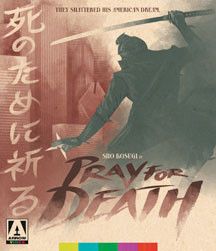 Anyone who knows anything about Ninja cinema, knows Sho Kosugi. The martial artist/actor who came to prominence in the 80s with Cannon films' Ninja trilogy (Enter the Ninja, Revenge of the Ninja and Ninja III: The Domination) was untouchable when it came to over the top, violent, gory martial arts films.
Arrow Video's
new release of the 1985 classic Pray for Death is no exception.
In this film, Kosugi plays Akira Saito, a Japanese businessman who, unbeknownst to his wife and two sons (played by his real life sons Kane and Shane), also happens to be a ninja. Saito's wife talks him into moving to the USA, where he opens up a Japanese restaurant. Unfortunately, some mobsters also happen to use the restaurant's back room as a place to deal drugs and stolen jewelry. After a crooked cop steals the mob's goods, Saito is blamed and is thrust into a one man war that requires his secret skills.
Pray for Death is as gory, sleazy and fun as any 80's Ninja film you're going to find. Kosugi kicks major ass and spills blood at every chance. The film is filled with colorful characters, including good cop Lt. Anderson (Norman Burton), kind old timer Sam Green (Parley Baer), crime boss Mr. Newman (Michael Constantine) and James Booth as what is probably the greatest villain name ever in the history of the world - Limehouse Willie. Willie is a nasty bastard who gets his jollies from killing and Booth's portrayal is hilariously sadistic. Though the story is fairly simple and predictable, the stunt work is top notch and the action doesn't let up. This film fits well with the many martial arts films of the time and Arrow's release is another small miracle. Featuring the rarely seen uncut version (as well as the original R rated version), this disc is really special. Also including some great extras featuring Sho Kosugi and a nice booklet that makes Arrow's discs stand out from the rest. My only one gripe is that the scenes originally cut from the R rated version look a little washed out and dark compared to the rest of the beautiful transfer, but I'd much rather they were here than not and praise Arrow for including them.
Bonus Features include:
-High Definition Blu-ray (1080p) presentation from a transfer of original elements by MGM
-R-rated and Unrated Versions
-Optional English SDH subtitles for the deaf and hard of hearing
-Brand new interview with star Sho Kosugi
-Archive interview and Ninjutsu demonstration with Kosugi from the film's New York premiere
-Original Theatrical Trailer
-Reversible sleeve featuring original and newly commissioned artwork by Matthew Griffin
Purchase this film directly from MVD HERE