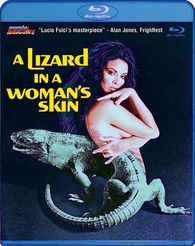 Just released by
Mondo Macabro
is one of the Italian Godfather of Gore Lucio Fulci's giallo masterpieces, A Lizard in a Woman's Skin. I first saw this film more than five years ago and it totally blew me away. I've been planning on checking it out many times since then and I'm glad I waited because I had forgotten much of the film and also because this new Blu Ray is a such revelation, both in quality and for its wealth of extras.
Florinda Bolkan plays Carol Hammond, the daughter of a rich lawyer, who also employs her husband Frank (Jean Sorel). Carol is plagued with strange, sensual dreams which frequently involve her neighbor Julia Durer (Anita Strindberg). After one of these dreams turns violent, Julia's body is found murdered in the same way as in Carol's dream. Police Inspector Corvin (Stanley Baker) is assigned the case and has to determine what role Carol's dreams play in the murder. Did she do it? Is someone trying to drive her crazy and frame her?
A Lizard in a Woman's Skin is one of the most vivid, artful and gory giallo films that I have seen, and also one of the best. As soon as you think you know the killer's identity, a new plot device is revealed, throwing your assumptions out the window. I've seen Bolkan in many Italian films and she is easily one of the most diverse actresses of the genre. Just watch this alongside Fulci's equally twisted giallo Don't Torture a Duckling and you'll see what I mean. Fulci doesn't hold back when it comes to gore here (those damn dogs!), but beyond that he lets his technical abilities shine more than probably any other film I've seen from his oeuvre. The dream sequences are so well shot, it's hard to believe its Fulci…at least if you are only familiar with his low budget gore films. Plus there is a well developed story (which actually makes sense) that many of his later films (even some of his classics) lack. I can't forget to mention one of the absolute greatest scores Ennio Morricone has ever written. Its funny because I have listened to the soundtrack many times over the past couple years and even included a song on a Morricone mix I made, so it's neat to hear the songs along with the film now that I am more familiar with them.
Mondo Macabro's new Blu Ray (which was first released as a limited edition of 999 and sold out very quickly) is a dream come true for genre fans. It features one of the most beautiful restorations I've seen in a long time. The disc is also packed with extras including interviews and commentaries. Full list of extras below:
-Complete version of the feature, 104 minutes 11 seconds, with alternative English and Italian audio tracks with newly created English subtitles.
-Documentary Shedding the Skin, with optional commentary from director Kris Gavin. (34 minutes).
-When Worlds Collide - Interview with Stephen Thrower author of Beyond Terror: the film of Lucio Fulci. (30 minutes).
-Dr Lucio Fulci's Day for Night: An interview with Lucio Fulci. (30 minutes)
-From Burton to Baker - interview with actor Tony Adams about his experiences of working on the film. (11 minutes).
-Feature Length audio commentary with Pete Tombs and Kris Gavin.
-Radio spots for the Schizoid release of the film.
-Alternative Italian title sequence.
-Original Trailers