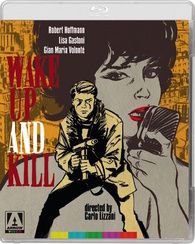 New from
Arrow Films
is another obscure classic from the Italian crime genre - Wake Up and Kill (Svegliati e uccidi). Not really a polizioteschi, more of a violent docu-drama, but still a wonderful slice of 60's Spaghetti action. Directed by Carlo Lizzani (
Requiescant
), this film pre-dates many of the classic Italian crime films that came after, but no doubt features lots of what makes them great.
Wake Up and Kill stars "Alain Delon-lookalike" Robert Hoffman (who I recently watched in Umberto Lenzi's trippy giallo Spasmo) as Luciano Lutring, a small time jewelry thief who, despite his hot temper, can't seem to get caught. He falls for a night club singer (Lisa Gastoni) who desperately tries to change him, but still supports him even when he becomes headline news. Luciano has to flea the country and ends up entangled with other groups of criminals who use his infamy to their advantage.
Wake Up and Kill is quite different than what I was expecting. Missing is the bloody violence, scantily clad women and simple story of your typical Italian Crime film. This one is far more dramatic, with complicated characters and a gripping story. If I had to compare this to one other film, I would compare it to the Giuliano Carnimeo's Secrets of a Call Girl, which was far deeper and character driven than I expected. I might even compare it to Lizzani's own early Bandits in Milan, which itself had a pseudo documentary feel (though much more pronounced). The cast here, especially Hoffman, Gastoni and one of my favorites Gian Maria Volonte (as the cop who tries to help Lutring's wife bring him in) are very convincing and carry the admittedly long running time (over 2 hours). I should also mention another great performance in Claudio Camaso (ne' Volonte - Gian Maria's brother) who plays Gastoni's ex flame and thorn in Lutring's side. Also worth mentioning is a classic score by the great Ennio Morriccone.
As with all of Arrow's releases I have seen, this release is nothing short of spectacular with two cuts of the film and a wealth of extras. Amazing for such and obscure film, but one that deserves it nonetheless. Full list of Extras are:
-Brand new 2K restoration of the film from the original camera negative
-High Definition (1080p) Blu-ray and Standard Definition DVD presentations of two versions of the film: the original full-length Italian release, and the shortened English-language cut
-Italian and English soundtracks in uncompressed PCM mono sound on the respective versions of the film
-Newly translated English subtitles for the Italian version
-Optional English subtitles for the deaf and hard of hearing for the English cut
-Theatrical trailer
-Reversible sleeve featuring original and newly commissioned artwork by Reinhard Kleist
Purchase Wake Up and Kill directly from MVD HERE