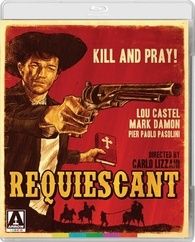 Arrow Films
, the leading purveyor of classic, cult and foreign films is back with another lost gem from one of my favorite genres - The Spaghetti Western. Requiescant is another film I had never heard of, but much like
Day of Anger
, soon after viewing moved to the top of my list of favorites of the genre.
Requiescant (which is part of the latin phrase "Requiescant in Pace" or Rest in Peace) tells the story of a young Mexican boy who witnesses his village massacred by the rich tyrant George Ferguson (Mark Damon). The boy is taken in by a preacher and his family and grows up with his step sister Princy. When Princy runs off to join a traveling theater, he promises to get her back. He finds Princy, who has become a prostitute, and becomes entangled with her pimps, who just happen to work for Ferguson. After being dubbed Requiescant, he has to use his cunning wits and his expert shooting skills to find a way to exact his revenge.
Requiescant has everything I love about the best Spaghetti Westerns - a quiet hero, a lot of gun play and an actual story. So many Spag Westerns suffer from being boring and Requiescant fortunately kept me interested from start to finish. Lou Castel (who I was familiar with from another classic Spaghetti Western - Damiano Damiani's A Bullet for the General) was perfect as Reqiescant and frequent star of many Italian films Mark Damon was very entertaining as the slightly mad Ferguson. Also included in the cast are famed Italian director Pier Paolo Pasolini as a priest and two of his frequent stars Franco Citti and Nino Davoli. I really hope Arrow continues to release Spaghetti Westerns because so far their track record is perfect.
Arrow's release of Requiescant is another well put together, essential Blu Ray/DVD combo featuring a beautiful print and a bevy of extras. Bonus Features include:
-Brand new 2K restoration of the film from the original camera negative
-High Definition Blu-ray (1080p) and Standard Definition DVD presentations
-Optional English and Italian soundtracks in uncompressed PCM mono audio
-Newly translated English subtitles for the Italian soundtrack
-Optional English subtitles for the deaf and hard of hearing for the English soundtrack
-An all-new interview with Lou Castel, recorded exclusively for this release
-Archive interview with director Carlo Lizzani
-Theatrical Trailer
-Reversible sleeve featuring original and newly commissioned artwork by Gilles Vranckx
-Illustrated collector's booklet containing new writing on the film by Pasquale Iannone
Purchase Requiescant directly from MVD HERE