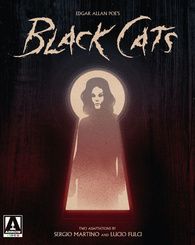 Sadly Halloween has come and gone. I am still trying to get over the fact that I have to wait another 11 months for the spooky Samhain season of tricks, treats and really nutty gothic Italian horror films. Wait! What's that you say? I don't have to wait?
Arrow Films
recently released a box set just for me featuring a pair of films by two of my favorite Italian directors? Let the celebrating commence!
Edgar Allan Poe's Black Cats box set features two films loosely based on the classic poem by the master of macabre. The first film, Lucio Fulci's The Black Cat stars David Warbeck (The Beyond) as an inspector investigating a series of murders in a small English village. Along the way he meets a photographer named Jill (Mimsy Farmer) whose post-mortem photographs may hold some evidence that a frisky feline might be responsible or at least hold the key to these murders. Also included is one of several expertly crafted giallo films by Sergio Martino, Your Vice is a Locked Room and Only I Have the Key. This classic mindbender stars Luigi Pistilli (The Good, the Bad and the Ugly) as an abusive, alcoholic writer who tries convincing his wife (Anita Strindberg) that he is not responsible for the odd murders that keep occurring in and around their sprawling villa. His mysterious young niece (the astonishingly beautiful Edwige Fenech) comes to visit and tries to find out who is responsible for the murders as well.
What can I say except that this box set is one of the best releases I have seen in a long time. It hasn't taken long for Arrow to win me over and I have to say they are probably my favorite DVD/Blu Ray releasing company around now. Their Criterion-level care for obscure, yet usually brilliant, films is a dream come true for fringe film lovers. Overall, I'd say Your Vice is the stronger of the two films but gore lovers won't want to miss Fulci's underrated gothic classic. The fact this box set includes two of my favorite Italian film starlets (Fenech and Dagmar Lassander) just makes the whole thing even sweeter. This limited edition box set features two blu ray discs as well as an amazing 80 page book featuring Poe's original story and detailed writings on the two films. Whether you are a fan of Italian horror, gothic, gore or gialli (or all 4 like me), you can't go wrong with this set. Included in this set are:
-Brand new 2K restorations of the films from the original camera negatives
-High Definition Blu-ray (1080p) and Standard Definition DVD presentations
-Original Italian and English soundtracks in mono audio (uncompressed PCM on the Blu-ray)
-Newly translated subtitles for the Italian soundtracks
-Optional English subtitles for the deaf and hard of hearing for the English soundtracks
-Brand new interview with director Sergio Martino
-Dolls of Flesh and Blood: The Gialli of Sergio Martino - a visual essay by Michael Mackenzie exploring Sergio Martino's unique contributions to the giallo genre
-Stephen Thrower, author of Beyond Terror - The Films of Lucio Fulci, on The Black Cat
-Reversible sleeves featuring original and newly-commissioned artwork by Matthew Griffin
-Limited Edition 80-page perfect-bound book featuring new writing on the films, Poe's original story and more, illustrated with archive stills and posters
Purchase this set directly from MVD HERE