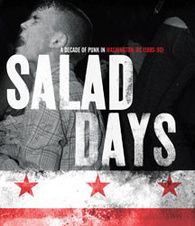 New from
MVD
is a long-awaited document of the Washington DC punk scene from 1980-1980. I have been a fan of many of the bands in this documentary since I was a teenager so this was one doc I did not want to miss.
Directed by scenester Scott Crawford (there is some great footage of him as a teen outside of a punk show back in the day), Salad Days is a chronicle of one of the most beloved and important time periods in punk rock history. Named after a Minor Threat song, this film features interviews with Minor Threat's Ian Mackaye, the most important figure from the DC hardcore scene and possibly of independent music itself, with his philosophies on affordable, youth oriented music through his Dischord record label and all ages shows. Also included are interviews with Henry Rollins, SNL's Fred Armisen and members of such integral DC bands as Fugazi, Government Issue, Minor Threat, Dag Nasty and many more.
Salad Days is a very welcome documentary for the punk community. Both informative and entertaining, with an amazing soundtrack (including a score from DC staple Michael Hampton from The Faith/Embrace/S.O.A.), this film excels on all levels. Well written, visually exciting are the words I would use to describe this great documentary. And the music! What great, great music.
Purchase Salad Days directly from MVD HERE