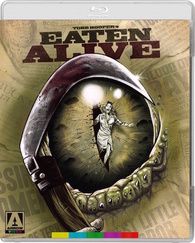 "Name's Buck... and I'm rarin' to fuck."
Just released from Arrow Films is Eaten Alive, an obscure horror classic that is sadly overshadowed by director Tobe Hooper's masterpiece The Texas Chain Saw Massacre. I first saw this film several years ago and didn't really know what to make of it. A few viewings later (including a beat up print on the big screen) and I finally realized how great this weird, off-beat treat really is.
Eaten Alive stars veteran character actor Neville Brand as Judd, a psychotic war veteran with a hate for prostitutes and a love for crocodiles. In fact, he keeps one right outside his dumpy motel. An odd mix of folks pass by, providing victims for Judd's scythe and food for the croc.
What makes Eaten Alive so great are the claustrophobic sets, the trippy red lighting and most importantly the cast. Rarely have I seen such an amazing cast of B movie greats: Robert "Freddy Krueger" Englund, William Finley (Phantom of the Paradise), Marilyn Burns (Texas Chain Saw Massacre), Mel Ferrer, Roberta Collins (Death Race 2000), Janus Blythe (The Hills Have Eyes), Stuart Whitman (Big Bad Mama) and more round out this stellar cast. Now what Arrow did with this film is nothing short of a miracle. The transfer is beautiful (much better than the beat up print I saw) and the bonus features, which include some archival as well as brand new interviews with Hooper and cast round out this amazing DVD/Blu Ray combo. Another nice thing about this release, like most Arrow releases, is that it comes with a very informative booklet and newly designed cover artwork. Though maybe not as well known as some of Tobe Hooper's other films, Eaten Alive is a sick little goody sure to please horror and exploitation fans alike.
Special Features include:
-Brand new 2K transfer from the original camera negative
-High Definition Blu-ray (1080p) and Standard Definition DVD presentations
-Optional English SDH subtitles for the deaf and hard of hearing
-Audio commentary with co-writer and producer Mardi Rustam, make-up artist Craig Reardon and stars Roberta Collins, William Finley and Kyle Richards
-New introduction to the film by director Tobe Hooper
-Brand new interview with Hooper
-My Name is Buck: Star Robert Englund discusses his acting career
-The Butcher of Elmendorf: The Legend of Joe Ball - The story of the South Texas bar owner on whom Eaten Alive is loosely based
-5ive Minutes with Marilyn Burns - The star of The Texas Chain Saw Massacre talks about working on Eaten Alive
-The Gator Creator: archival interview with Hooper
-Original theatrical trailers for the film under its various titles Eaten Alive, Death Trap, Starlight Slaughter and Horror Hotel
-US TV and Radio Spots
-Alternate credits sequence
-Reversible sleeve featuring original and newly commissioned artwork by Gary Pullin
-Collector's booklet featuring new writing on the film, illustrated with original archive stills and posters
Purchase Eaten Alive directly from MVD HERE