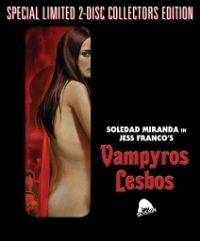 "The old house of Uskulan, high above on the mountain."
You want more Jess Franco on Blu Ray? Well the fine folks at Severin Films have got you covered. One of the best known and most adored films from Mr. Franco, Vampyros Lesbos is a film I have wanted to check out for a long time but never got around to it. I had even bought a copy of one of the older DVD's that, due to the busy life of a procrastinator, I never got around to watching. So when the new Blu Ray came out I finally made it a point to check this film out. And, as with any Franco film, I made the right choice.
Vampyros Lesbos stars Franco regular Ewa Strömberg as Linda Westinghouse, a woman who works at a law firm. She is sent to a remote island inhabited by Countess Nadine Corody (the inimitable Soledad Miranda, billed again as Susann Korda) regarding an inheritance left to the Countess by some dude named Count something or other. Oh yeah, Dracula. Anyway, when Linda arrives, she recognizes the Countess as a woman that has been plaguing her erotic dreams. Things get steamy, the Countess drinks Linda's blood and then Linda blacks out and ends up in a nuthouse, which is run by vampire expert Dr. Seward (Dennis Price). Will Linda, her boyfriend Omar and Seward be able to break the Countess's spell over Linda?
Vampyros Lesbos is another classic Jess Franco film, chock full of nudity, blood and insanity. Just when the film starts to feel like a regular film (plot wise), the whole thing turns on its head and goes a completely different direction. This gives Vampyros Lesbos the feeling of a fever dream, which is something Franco seems to excel at. Strange images, imaginative camerawork and loads of eroticism no doubt give this film the cult following it so rightfully deserves. Not to mention a great, funky soundtrack from Manfred Hübler and Siegfried Schwab, from which the song The Lions and the Cucumber from this film was even used in Quentin Tarantino's Jackie Brown. Much stranger and cerebral than She Killed in Ecstasy, but no less brilliant, Vampyros Lesbos is a must for exploitation and weird film lovers. Severin's new Blu Ray/DVD combo features a crystal clear transfer and some great bonus features (including a "bootleg" Spanish cut of the film titled Las Vampiras). Here are a full list of bonus features:
Disc 1 (Blu-Ray):
Newly remastered HD presentation of the feature in its original 1.66:1 aspect ratio
"Vampyros Jesus": Interview featurette with Director Jess Franco
"Sublime Soledad": Interview with Soledad Miranda Historian Amy Brown
"Stephen Thrower on Vampyros Lesbos": Interview with Author of 'Murderous Passions – The Delirious Cinema Of Jess Franco'
"Jess Is Yoda" Clip
Alternate German Opening Title Sequence – 'Dracula's Heiress'
German Trailer
Disc 2 (DVD):
Las Vampiras – Alternate Spanish Language VHS Version With Optional English Subtitles
Specially packaged in dye cut slip case. Newly created cover art by Wes Benscoter.
RATING: 9/10
Purchase the Vampyros Lesbos Limited Edition Blu Ray/DVD combo from Severin Films HERE