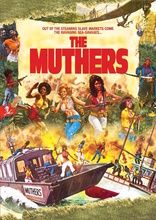 "I'm not crawling on my knees for nobody!"

Recently released from Vinegar Syndrome is the Filipino exploitation classic The Muthers. Directed by Roger Corman's go to Filipino director Cirio H. Santiago, this film was actually included as a bonus feature on the Australian release of Mark Hartley's wonderful love letter to Filipino exploitation, Machete Maidens Unleashed. I was disappointed that the US version did not include it as well so luckily Vinegar Syndrome saved the day once again and brought this sought after film to us patient trash lovers.

The Muthers stars "TNT Jackson" herself Jeanne Bell as Kelly and "Swingin' Cheerleader" Rosanne Katon as Anggie, a pair of female pirates who sail the seas looking to rob unsuspecting ships. A government agent, who is trying to nab a female slave camp owner, agrees to forget about arresting them if they go undercover in the camp. After Kelly finds out that her sister has been kidnapped and may be at the camp, she and Anggie agree. There they meet fellow slave Marcie (played by Trina (Thumper from the Bond film Diamonds are Forever) Parks and Serena (the beautiful Jayne Kennedy), who has become the slave owner's girl and therefore given certain privileges the other girls aren't. Will the girls be able to find out what happened to Kelly's sister and will they be able to escape the prison camp alive?
The Muthers is a real treat of a film. It's funny, sexy, bloody and a whole lot of fun. It has a similar feel to many other Filipino exploitation films (particularly Savage Sisters, Big Bird Cage and Wonder Women) and won't disappoint fans of the genre or of exploitation films in general. The leading ladies are all beautiful and surprisingly can actually act! The story moves along at a brisk pace and never gets dull. Vinegar Syndrome's transfer is superb and the DVD is sold for a very fair price (less than $15).
RATING:
Film: 8/10
DVD: 9/10 (wish there were more extras)
Buy The Muthers directly from Vinegar Syndrome HERE