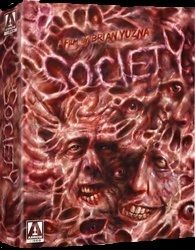 "You were right Billy. I am a butthead!"
So after a 2 year period of inactivity, choosing what film to review first was tough. So I went back to my first ever review for inspiration. At the time, I just decided to choose the last film I watched. Seems logical. So I did the same damn thing this time too. Since I watched Arrow's new release of the ooey gooey late 80's body horror classic Society last night, that one wins.
Society stars soap opera star/Baywatch stud Billy Warlock as Billy Whitney, the captain of his Beverly Hills high school's football team AND candidate for class president. Despite this, he still manages to be an outcast in both his school and home life. He even has to go see a shrink! But this isn't just a normal case of teenage blues. After Billy is warned that something is up with the towns people, those that warn him start turning up dead. But is it only in Billy's head or is the "Society" that surrounds him really not what they seem?
I had been looking for a decent copy of Society for a long time so when I found out that Arrow was putting it out, I was ecstatic. For those unfamiliar, Arrow Films is a long running UK DVD/Blu Ray label that FINALLY started releasing films in the US this year. And so far, their releases have been impeccable, both in quality and film selection. Society is no exception. The film itself is everything you would hope from a horror film - disgustingly gory FX (courtesy of "surrealistic" FX wizard Screaming Mad George) and a great, thought-provoking story. I'll admit the film has that gross late 80's big hair and bright clothes thing going on, but that just fits with the time and doesn't deter from the timeless plot of paranoia and alienation. Below is a list of details from Arrow's new Blu Ray/DVD combo out May 9th!
Special Features:
•Newly remastered 2K digital transfer of the film, approved by director Brian Yuzna
•High Definition Blu-ray (1080p) and Standard Definition DVD presentation
•Original Stereo 2.0 audio (uncompressed PCM on the Blu-ray)
•Optional English SDH subtitles for the deaf and hard of hearing
•Brand new audio commentary by Yuzna
•Governor of Society – a brand new interview with Yuzna
•The Masters of the Hunt – a brand new featurette including interviews with stars Billy Warlock, Devin DeVasquez, Ben Meyerson and Tim Bartell
•The Champion of the Shunt – new featurette with FX artists Screaming Mad George, David Grasso and Nick Benson
•2014 Q&A with Yuzna, recorded at Celluloid Screams Festival
•Brian Yuzna in conversation backstage at the Society world premiere
•'Persecution Mania' – Screaming Mad George music video
•Limited Edition Digipak packaging featuring newly-commissioned artwork by Nick Percival
•Collector's booklet featuring new writing on the film by critic Alan Jones, illustrated with original archive stills and posters
•Society: Party Animal [Limited Edition Exclusive] – the official comic sequel to Society, reproduced in its entirety in a perfect-bound book
RATING:
Film: 8/10
DVD / Blu Ray: 10/10 (review based on screener DVD)
Order the Limited Edition Digipak (5000 units) of Society directly from MVD HERE