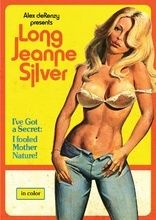 "I've got a secret: I fooled Mother Nature"
New from Vinegar Syndrome is another classic from adult filmmaker Alex deRenzy. Long Jeanne Silver, a fairly notorious film (for reasons we will get into later) that honestly I had never heard of but when I read the synopsis sounded very intriguing and I had to check it out. After watching it, I was shocked - not just by the content of the film but just how drawn in I was by Jeanne.
Long Jeanne Silver is part documentary, part anthology film following the main protagonist as an adult actress and behind the scenes as a loveably adventurous woman. Jeanne takes us on a trip showing us what she can do with her "special gift". Oh, did I mention yet that Jeanne is an amputee with one false leg? I'll admit the stage name is both hilarious and tacky, but Jeanne seems to embrace her disability and use it for some very interesting love making.
I really fell in love with Jeanne watching this film. She is just such a beautiful and unique person who seems so fragile, yet so bold, funny and fearless. deRenzy's film is a very original and touching portrait like nothing I've ever seen, especially in the adult film genre. I have to congratulate Vinegar Syndrome for putting out this courageous film. The presentation of this classic is handled expertly (as are all of Vin Syn's releases) and the transfer looks pristine. The film is definitely not for everyone, but I loved it.
RATING:
Film: 8/10
DVD: 10/10
Purchase Long Jeanne Silver directly from Vinegar Syndrome HERE