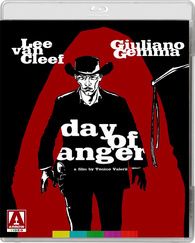 "Your last lesson Scotty: when you start killing you can't stop it."
Recently released from Arrow Films is Day of Anger, a little known western (to me at least) by Sergio Leone protege Tonino Valerii. After the success of Leone's Dollars trilogy, Lee Van Cleef did countless Spaghetti Westerns (of various quality) so my expectations were fairly low for this film. The addition of Italian star Giuliano Gemma peaked my interest enough to check this one out.
Giuliano Gemma stars as Scotty, a shy outcast who was orphaned as a child and given the lucky job of emptying the town's toilets. A drifter named Talby (Van Cleef) comes into town with thoughts of settling (and maybe even taking over). Scotty tries to follow Talby after he encourages Scotty to stick up for himself. Reluctantly Talby accepts Scotty as a sidekick but things start to change when Scotty's marksmanship and fearlessness start to threaten Talby's plans.
Day of Anger was a very surprising success. As much as I love Spaghetti Westerns, my main complaint is that they frequently move too slowly and are overlong. Even at almost two hours, Day of Anger doesn't drag or let up for a minute. The film has a great story, a wonderful soundtrack by the late, great Riz Ortolani and an excellent cast. Regardless of what I said in my intro, this is actually a fairly well known (and highly regarded) Spaghetti Western so I guess even I don't know everything. What I do know is that you need to buy this set immediately. It comes in a 3 disc set (1 blu ray, 2 dvds), features two different versions of the film (I watched the longer version only) and a whole slew of extras. Here's the full list:
-Brand new restoration of the original 35mm Techniscope camera negative
-High Definition Blu-ray (1080p) and Standard Definition DVD presentation of both the Italian and International versions of the film
-Original uncompressed mono audio
-Newly translated English subtitles for Italian audio and optional English subtitles for the deaf and hard of hearing for English audio
-Brand new interview with screenwriter Ernesto Gastaldi
-Brand new interview with Tonino Valerii's biographer Roberto Curti
-Previously unreleased 2008 interview with Tonino Valerii
-Deleted scene
-Reversible sleeve featuring original and newly commissioned artwork by Reinhard Kleist
-Booklet featuring new writing on the film by spaghetti western expert Howard Hughes, illustrated with original archive stills
RATING:
Film: 10/10
DVD/Blu Ray: 10/10
Purchase Day of Anger directly from MVD HERE