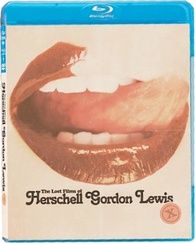 Just released from the brand new purveyors of exploitation,
Vinegar Syndrome
is a rare treat from the Godfather of Gore (and smut apparently), Herschell Gordon Lewis. The Lost Films of Herschell Gordon Lewis features three of the master's long lost sexploitation flicks: Ecstacies of Women, Linda and Abilene and Black Love.
Ecstacies of Women begins with four swingin' guys at a nudie bar, one of which is the poster boy for ADHD as he continually zones out and has wild fantasies of bringing different women he meets back to his house boat. Yup, he lives on a house boat. Will this space case and his friends actually score with some real women?
Linda and Abilene is the story of a brother and sister in the old west who live in a cabin in the woods. They become attracted to each other and begin a creepy love affair. The brother, Tod, however begins to get frustrated at his sister, Abilene, and goes off into town, where he meets a local girl named Linda. While they are getting it on, a stranger appears at the cabin and torments Abilene.
Black Love is a white coater (sex film disguised as an educational film) featuring the "love making habits" of African Americans in the 70's. I don't know how else to summarize this film without sounding completely racist, so I won't.
Vinegar Syndrome are off to a great start with their premier title. Not only are we provided with 3 lost gems from the golden age of sexploitation, but the presentation is amazing. The prints are from the original camera negatives and look incredible. The set comes as a Blu Ray/DVD combo and features trailers for each film. Also included is a very informative booklet explaining the back story of these three films. As a nice addition, we are also given reproductions of the original lab cards. As far as the films themselves go, they were exactly what I was hoping for. Amateurish, silly, fun and sexy. Linda and Abilene is the "best" of the bunch but Ecstacies of Women was a blast too. Black Love, with its dated stereotyping and borderline racism, is quite an oddball but if you take it with a grain of salt, it's a hoot. Black Love featured real hardcore sex while the others were strictly softcore. To end this review, I just want to say Bravo Vinegar Syndrome. Can't wait for Savage Water/Death By Invitation!
Rating: 8/10
Order this set directly from Vinegar Syndrome HERE