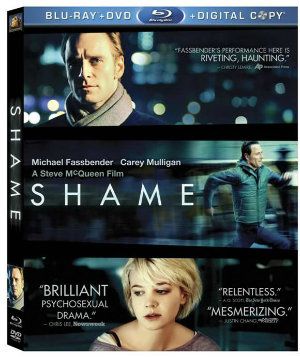 Shame, a film ultimately about addiction, was one I wanted to see as soon as it was announced. Michael Fassbender is always great and Carey Mulligan is also a very talented actress. I have read a bit about director Steve McQueen and his previous film The Hunger and the whole package had the promise of being a great film.

Fassbender stars as Brandon Sullivan, a business man living in a nice apartment in New York. Though seemingly your average guy, Brandon happens to be a sex addict. He needs sex in any form constantly, whether it be through internet porn or anonymous encounters. Brandon's troubled sister (Carey Mulligan) pops into his life unannounced and worms her way into staying with him. Brandon's lifestyle however proves this to be troublesome and the two have to struggle to not kill each other (or themselves).

Shame was a remarkable film filled with brilliant performances, an interesting script and controversial subject matter. Fassbender and Mulligan are always great and prove the same here. McQeen's direction also proved very artistic and frequently beautiful. I guess my only complaint would be that some of the film was a little predictable, but it was still well worth a watch. The film is available in a DVD/Blu Ray combo with the DVD also containing a digital copy of the film. Reasonably priced and featuring different ways to watch the film, it's the perfect option for checking out one of the most interesting new releases of the last few years.

RATING: 8/10