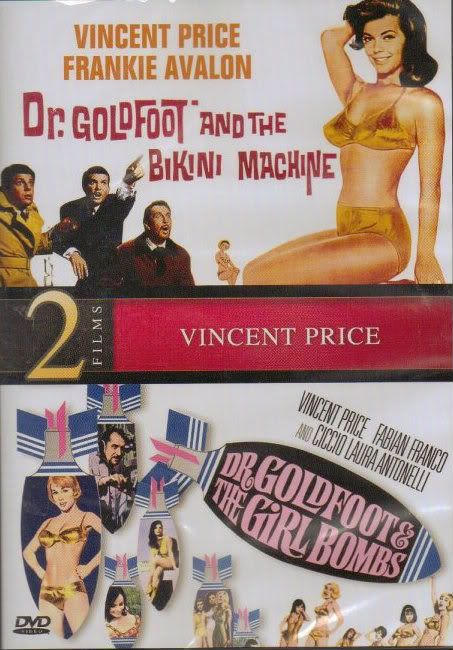 60's spy spoofs are like gold to me. I can't get enough of them. From the ultimate spy spoof (in my opinion), 1967's Casino Royale, to the great Matt Helm films with Dean Martin to James Coburn's Derek Flint films, its a genre that no matter how terrible the films are, I'll still watch them and most likely enjoy them. Here we have two additions from the spy spoof genre and like many other similar films, the spoofing isn't limited to spy films but come from many other sources. For example, Dr. Goldfoot and the Bikini Machine relies heavily on the same brand of physical comedy used in the Pink Panther films. Luckily, Walmart just started carrying a double feature with these two films in their $5 bin (so check your local Walmart...I know, it's asking a lot). Bikini Machine was previously released on DVD but this marks the premiere of The Girl Bombs so that alone makes the set worthwhile. Oh, did I mention The Girl Bombs was directed by horror legend Mario Bava?
Dr. Goldfoot and the Bikini Machine is a G rated (!) spy spoof starring Vincent Price as the evil Dr. Goldfoot. The evil Dr. has invented a machine to make attractive female robots who are trained to trick wealthy men into signing over their fortunes. Playboy Todd Armstrong (Dwayne Hickman) is one of the targets but the robot (Susan Hart) sent to trick him accidentally mistakes SIC (Special Intelligence Command) agent Craig Gamble (Frankie Avalon) for Armstrong. Craig falls in love and pursues Diane, even after she marries Todd, and soon he uncovers Goldfoot's plot.
Dr. Goldfoot and the Girl Bombs once again stars Vincent Price as Goldfoot. This time he has created a machine that can clone humans...which are actually bombs in disguise. Goldfoot wants to start a world war by killing off the world's generals and dropping a bomb on the Kremlin. To the rescue is another teen idol (Fabian Forte) , an ex-agent of SIC who wants to prove himself and rejoin. Along for the ride are Italian comedians Franco and Ciccio.
When I said I'll watch any spy spoof regardless of how bad it is, sometimes it's not as easy as it sounds. While Dr. Goldfoot and the Bikini Machine is a hilarious farce with funny characters, good writing and a great cast, Dr. Goldfoot and the Girl Bombs is...well...a bomb. Fabian is no match for Frankie Avalon (especially when Fabian's dubbing sounds like it was recorded in an echo chamber) and the story here is not very coherent. I've read that the Italian version of the film has extra footage with Franco and Ciccio being the main characters. The U.S. version focuses more on Goldfoot and Fabian's characters and was not Mario Bava's final vision. His stamp is barely visible on the film and other than a fun scene at an amusement park and the addition of Italian goddess Laura Antonelli, the film pretty much sucked. Franco and Ciccio (whose names are combined with the other actor's names on the DVD cover!?!) were annoying and Price's Goldfoot continuously broke the 4th wall and spoke to the audience for some unknown reason. Bikini Machine however was a great film that I will definitely re-watch. Both films are included in beautiful Anamorphic Widescreen transfers and though there aren't any extras, you cannot beat the price to have both of these films together.
Rating:
Dr. Goldfoot and the Bikini Machine: 8/10
Dr. Goldfoot and the Girl Bombs: 3/10