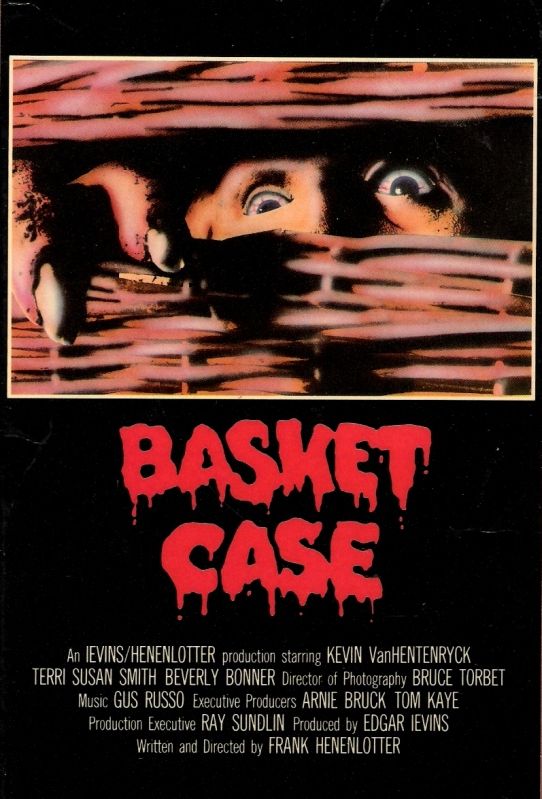 Basket Case and I have a long history together. I still remember renting it for the first time from Video Connection on Rte 135 in Framingham, MA (where I discovered a good percentage of my favorite horror movies). It must have been when I was 16 or so years old. I had already fallen in love with 80's slasher films and had newly discovered the wonders of Zombies. Anyway, I would basically rent anything that looked gory and was from the 80's so it was only a matter of time before Basket Case would corrupt me.
Basket Case stars Kevin van Hentenryck as Duane Bradley, a young man who is visiting New York City for the first time. He appears with some clothes, a wad of money and a big basket. In the basket is Duane's brother Belial. Belial and Duane are separated conjoined twins and they can speak to each other telepathically. Their mission in NYC is to find the doctors that separated them against their will and kill them. Duane then falls in love with the secretary of one of their targets and is conflicted between his feelings for her and for his brother.
Basket Case is a great fucking movie. Awesome in every way. A total classic, 80's,oddball, gory masterpiece. Sure the acting is pretty amateurish, some of the makeup FX are rudimentary and the stop motion FX are hilarious. This all fits the tone of the film perfectly though. You can't help but take any of it seriously so you feel like you are watching a demented cartoon. The film also captures the grimy streets of New York City, particularly the infamous 42nd street where director Frank Henenlotter grew up. Hell, there's even a scene where Duane and Belial go to a seedy grindhouse and check out a Kung Fu film! How classic is that? Whether I am swayed by nostalgia or what, Basket Case is a classic horror film that I will never get sick of.
RATING: 10/10
Order Basket Case directly from Something Weird Video on Blu Ray HERE , DVD HERE or Instant Download HERE
Something Weird Video has hundreds of films available to Instantly Download on their site at very cheap prices. Check them out HERE