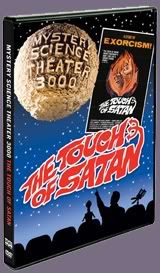 Along with
The Atomic Brain
comes another lost MST3K gem, The Touch of Satan. Mike Nelson, Crow and Servo are back in this season 9 episode of demonic possession. Another
Shout! Select title
only available on their website, The Touch of Satan was a must see for me mainly because of my love for MST3K and 70s satanic films.
The Touch of Satan follows young drifter Jody who pulls down a rural road to eat his lunch by the river. He is spotted by Melissa, a young woman who lives in a nearby farmhouse. Jody and Melissa soon fall in love but Melissa has some secrets that she can't hide much longer...like the hideously deformed old woman also living in the farmhouse killing anyone who enters.
The Touch of Satan could definitely be considered a lesser entry in the satanic horror movies of the 70s and once again, the worse the better for MST3K since this turns out to be one of the most enjoyable episodes I've seen. Frequent cracks about the film's awkward pauses and overall slow pace provide many jokes for the crew. Though the film had some promise of not being terrible, it turned out to be just that but it really didn't matter because it just made the episode funnier.
RATING: 9/10
Order The Touch of Satan along with
The Atomic Brain
and you'll receive a free MST3K Stress Ball (while supplies last).