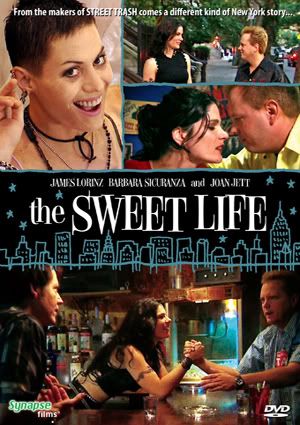 Now available from
Synapse Films
is a little known romantic comedy from the writer/producer of Street Trash (Roy Frumkes). Yeah, I know what you're thinking but there are no people melting in this film. The Sweet Life is actually a pretty straight forward movie, which I have to give Synapse a lot of credit for (considering the rest of their catalog). It's an odd film to be put out by a company that usually focuses on horror and exploitation but I must commend them because it is actually a really good film. Honestly, I didn't have very high expectations but I was pleasantly surprised.
The Sweet Life follows smooth talking, womanizer Frankie (Robert Mobley) and his shy, pessimistic brother Michael (James Lorinz). They couldn't be more different but after Frankie dumps his hard partying girlfriend Lila (Barbara Sicuranza), Michael befriends her and soon their relationship escalates. Michael encourages Lila to follow her dreams of becoming a massage therapist, which ends with disastrous results (for both of them). They soon question their compatability while trying to keep their relationship a secret from Frankie, who wants Lila back.
The Sweet Life takes everything I hate about romantic comedies and flushes them down the toilet, replacing it with wit, humor and believable situations. Your typical Jennifer Aniston dreck this is not. The characters are easy to identify with and I found myself laughing out loud consistently. James Lorinz does a great job as the grumpy, self deprecating and Barbara Sicuranza is also very believable as the sweet but rough around the edges Lila. I must also mention Joan Jett's hilarious performance as Lila's drunk biker roomate Sherry. For a low budget film with a mostly no-name cast, Frumkes and director/co-writer Rocco Simonelli construct a fun and rewarding movie experience. Like I said, there are no melting people in this film, but it might just melt your heart (*sniffle*).
RATING: 8/10