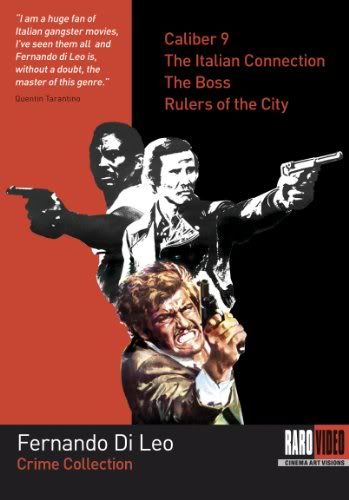 Following their release of Fellini's I Clowns, Raro Video's new US distribution brings us one of the most exciting box sets focusing on a particular director to come around in a long time. Fernando Di Leo (1932-2003) was an Italian writer/director who worked in many different genres, from Westerns to War films to Gialli. Most would agree though, that his best work was in the Italian Crime genre, particularly the "Milieu Trilogy" of Milano Calibre 9 (Caliber 9), La Mala Ordina (The Italian Connection) and Il Boss (The Boss). These films, which were released from 1972-1973, have frequently been called the best Italian Crime films ever made (there is a quote on the front of this box set from Quentin Tarantino regarding his love for Di Leo). Though previously released under Raro Video's Italian label overseas, the only release stateside of these great films were on grey market discs by Popflix or Video Asia. Finally, on March 16th, we can see these films properly when the Fernando Di Leo Crime Collection is released.
The first film in this set is Caliber 9, the story of Ugo Piazza (Gastone Moschin, aka Don Fanucci from Godfather part II), a thug who was just released from prison. He is accused by his former gang, led by Rocco Musco (Mario Adorf) of stealing and hiding $300,000 before going to jail. Needless to say, they want their money back and despite Piazza's continual denial, they take him back into the "family" knowing that if he is dead, they will never find the money. Along the way, the Police are also after Ugo, as is the American crime boss who was supposed to receive the stolen money.
Next is The Italian Connection. This time Mario Adorf takes on the lead role of Luca Canali, a small time pimp who is accused of stealing a shipment of Heroin en route to New York from Italy. Two American gangsters (Henry Silva and Woody Strode, who are said to have influenced John Travolta and Samuel L. Jackson's characters in Pulp Fiction) are sent to Italy to find Canali but the real thieves want him dead before the Americans discover the truth. Canali wages his own war after his family becomes a target for the mob.
The third film in Di Leo's Milieu trilogy, The Boss, brings Henry Silva back, this time as mob hitman Nick Lanzetta. Lanzetta wipes out an entire mob family at a porno theater, which disrupts the peace between mafia families. Nick's boss, Don Carrasco (Richard Conte) defends him but also tries to make peace with the remaining crime bosses.
The last film in the box set is I padroni della citta/Rulers of the City (aka Mister Scarface). Jack Palance plays mob boss 'Scarface' Manzari, who is trying to snuff out ex-worker Rick (Al Cliver) and Rick's new partner in crime Tony (Harry Baer). Tony was sick of working for crime lord Luigi (Edmund Purdom) so he and Rick found a way to steal a large amount of cash from Manzari and get away. Being the show off that he is, Tony makes it a point to let the ruthless Scarface know who ripped him off, which starts a manhunt culminating in an abandoned slaughterhouse massacre.
These films prove that Di Leo is easily one of the best and most influential directors of Italian Crime films. When Di Leo films a chase scene, whether it's in a car or on foot, you feel like you are right there with the characters, running for your life, dodging bullets and punches, desperate for revenge. The action in these films puts most in the genre to shame, but just as important in making these films crush their competitors are the characters. Mostly based around stories by Italian author Giorgio Scerbanenco, Di Leo's screenplays are filled with a colorful collection of hoods, pimps, crime bosses, scumbags, femme fatales and just about anyone else you wouldn't want within 100 feet of you. Instead of just a body count, these characters are surprising complex which makes even the most despicable lout sympathetic. Rulers of the City has some great characters (especially Tony) but it is a little lighter than the trilogy and therefore loses a bit of its impact. It is still a great film though. Caliber 9, The Italian Connection and The Boss all follow the same basic outline of a criminal who is double crossed and therefore goes out for revenge and captures our sympathy along the way. Moschin, Adorf and Silva all do flawless jobs portraying these roles and the reappearance of several actors throughout the trilogy displays their versatility.
Raro Video should be applauded for this release. Not only do they collect four brilliant Italian Crime films from one of the genre's best directors, but they put it out in an affordable box set filled to the brim with bonus features. This set comes in a cardboard outer sleeve with slim cases for the four discs, each with its own artwork. Also included is an informative booklet full of candid photos from the making of the films included as well as essays and interviews with Di Leo. Each disc features impeccable transfers of the films with optional English language or Italian Language with English subtitles. Also included on each disc are photo galleries and documentaries on the films as well as a bonus documentary on the work of Fernando Di Leo.. Most Italian Crime fans probably already know how great these films are but for those who don't or for action, mob or Tarantino fans, these films will blow you away. Welcome to the US Raro Video. I wish all DVD companies could put as much love into their releases as you do.
The Italian Connection : 10/10
Rulers of the City : 8/10