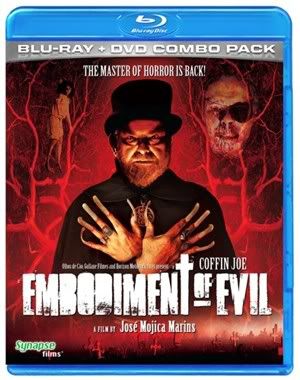 Embodiment Of Evil
RELEASE DATE: 03/29/11. Blu-ray & DVD Combo pack
Run Time: 94 Minutes. In Portuguese, Subtitled in English
Color. Widescreen Anamorphic 1.85:1. DTS 5.1 HD
After serving a 40-year prison term, Coffin Joe is finally released from the Mental Heath wing of the Sa~o Paulo State Penitentiary. Back on the streets, the sadistic undertaker is set upon fulfilling the goal which sent him to jail in the first place: find a woman who can give him the perfect child. Accompanied by his faithful servant, the humpbacked Bruno, Coffin Joe leaves behind a trail of horror and is haunted by ghostly visions and the spirits of his past victims. This is the third film of the "Coffin Joe Trilogy" which began with the classic "At Midnight I'll Take Your Soul" (1964) and "This Night I'll Possess Your Corpse" (1967). Synapse Films is proud to present "Embodiment of Evil" in a beautiful high-definition transfer created from the original camera negative with amazing 5.1 surround sound.
Bonus Features: Theatrical Trailer, Footage of the Fantasia Film Festival North American Premiere, "Making of" Featurette.
THE DORM THAT DRIPPED BLOOD
RELEASE DATE: APRIL 26TH
DVD / BLU-RAY COMBO. Color. 88 Minutes.
Widescreen Anamorphic 1.66:1. PCM Mono
On the eve of Christmas vacation, a college dormitory stands condemned... the dark halls now vacant and unsafe. Student Joanne Murray and her close friends volunteer to help close down the building, unaware a psychopathic lunatic is hiding in the shadows. As the students disappear one by one, Joanne discovers the horrifying reality that if she is to survive, she alone will have to find a way to slay the brutal murderer. If you think you've seen this film totally uncut, think again! Synapse Films is proud to present THE DORM THAT DRIPPED BLOOD in a never-before-seen alternate version containing additional scenes, extended gore sequences, and a different sound mix. This transfer was created from the only existing 35mm answer print of the original "Directors' Cut" entitled DEATH DORM, a version of the film thought to have been lost for over thirty years. BONUS FEATURES INCLUDE: Anamorphic Widescreen (1.66:1) Transfer of the "Directors' Cut"; Audio Commentary Featuring Directors Jeffrey Obrow and Stephen Carpenter; Interviews with Composer Christopher Young and Make-Up FX Creator Matthew Mungle; Original Theatrical Trailers.