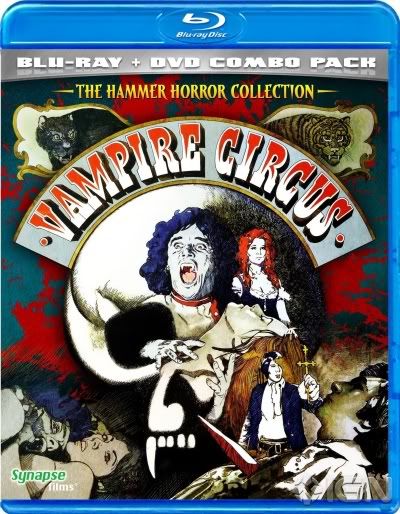 Whether it's their gothic locales, beautiful period costumes on some of the most beautiful actors and actresses ever caught on celluloid, graphic violence which was way ahead of its time or all of the above, Hammer Horror films all have something special about them. Though known mostly for the classic monsters Dracula, Frankenstein and the Mummy, Hammer's lesser known films were still well worth checking out and frequently surprised viewers with many wonderful and strange ideas not utilized in the more popular features. Vampire Circus is a perfect example.
Vampire Circus starts out with a mother and daughter walking through the woods and stumbling upon a castle, as if out of a fairy tale. What they don't know is that inside lives a vampire named Count Mitterhaus (Robert Tayman) who bites the young girl to death and seduces the mother. The townspeople storm in and put a stake through the Count's heart. Many years later, the town is quarantined by the plague and is visited by a traveling circus. The town folk find much amusement in the circus until they realize that it is run by disciples of Count Mitterhaus who want to get revenge on the Count's killers.
Vampire Circus is a fun, gory, creepy and just plain weird film. The story is pretty straight forward and doesn't bore viewers. There is a good deal of nudity and bloody deaths to keep exploitation and horror fans happy. Plus it also has many great performances and a who's who cast of character actors (David Prowse, aka Darth Vader for instance).
Synapse
does an incredible job in preserving this film on this DVD and Blu-Ray combo pack (this is reportedly the first Hammer Horror film on Blu-Ray). The picture is crystal clear with barely any visible wear and the colors are all very vivid. Also present is a wealth of bonus features including a making of featurette, as well as featurettes on Hammer itself and a history of Circus Horror films, a theatrical trailer, still and poster gallery and a motion comic book. Overall this is a dynamite release of a lesser known film that I'm sure will definitely please Hammer fans and horror fans alike.

FILM RATING: 8/10DVD/BLU RAY RATING: 10/10