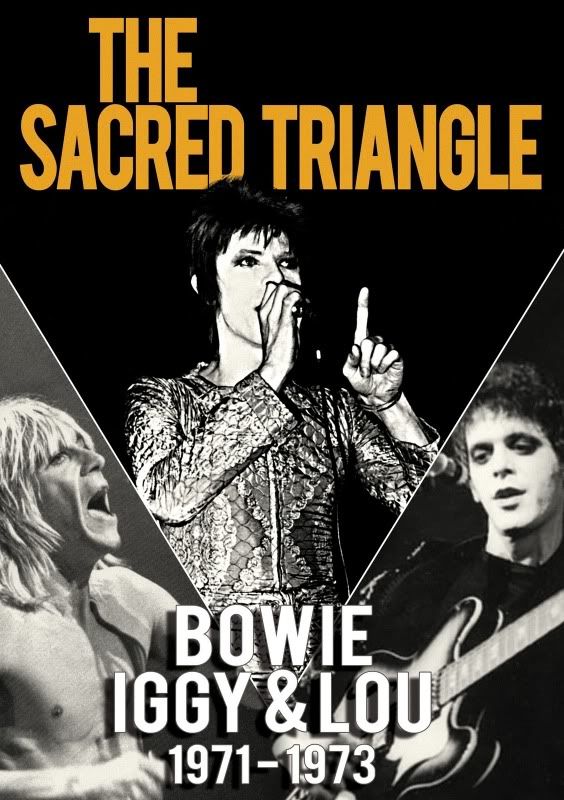 Everyone has idols. Some may be relatives, some may be football players, some may be serial killers, some may be religious figures. I can't say I really idolize anyone but if I did, David Bowie, Iggy Pop and Lou Reed would be at the top of that list. Not to say that I want to be them or agree with their past lifestyles, but their music has been an important part of my life since I was a teenager. I remember finding a vinyl copy of Ziggy Stardust and instantly connecting with it. I also remember buying a copy of Raw Power to hear "that song Guns n' Roses covered" and being blown away. Then of course there was the life changing moment I first heard The Velvet Underground and Nico. When I discovered this documentary about the three musicians responsible for those important landmarks of my admittedly simple life, it was an instant must see.
The relationship between David Bowie, Iggy Pop and Lou Reed is a fascinating example of three very different but equally brilliant artists coming together to form a great alliance. Though Iggy and Lou technically didn't really collaborate, their link to Bowie was a very important one. Bowie's popularity in the early 70s allowed him the freedom to lend a hand to some of his own musical idols, two of which were Lou Reed's Velvet Underground and Iggy Pop's The Stooges. In this short period of three years from 1971 to 1973, Bowie helped produce two of the best albums by his idols, Lou Reed's Transformer and Iggy and the Stooges' Raw Power. There are many interesting stories and anecdotes about these partnerships that can all be obtained from this documentary.
The Sacred Triangle is another amazing music documenatary from
MVD
. It is full of rare clips and photos of the artists and interviews with several experts on the subjects, including Angela Bowie, punk personality Wayne/Jayne County and Lou Reed biographer Victor Bockris. That such a specific topic is covered by this documentary proves that at least someone out there knows what music fans want. From recording sessions to personal life and more, no stone is unturned in this film about three of the most interesting and respected cult music icons.
RATING: 9/10
You can order this DVD directly through MVD
HERE