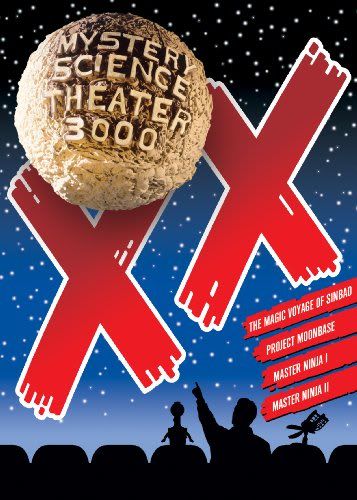 Shout! Factory
continues churning out the great Mystery Science Theater 3000 box sets with this, their 20th set (yes, the X's are roman numerals, smarty). I have long been a fan of the show, catching it whenever I could on TV and checking out some of the box sets that had films I loved or knew would be hilarious with the Satellite of Love crew ranking on them. Though I was unfamiliar with the films in this set, the titles alone assured me they had potential to be great fodder for the humor of Joel Robinson (Joel Hodgson), Tom Servo and Crow.
First up in this great set is Magic Voyage of Sinbad, a Russian film from 1953 that is filled with all of the epic costumes and locations you'd expect from a Sinbad adventure, as well as all of the ridiculousness you'd expect from something chosen for MST3K. Next up are Master Ninja 1 and 2 which aren't actually films but several episodes of the 1984 television series The Master cut together. Starring an over the hill Lee Van Cleef as an indestructable ninja and (not so) tough guy Timothy Van Patten as his student/sidekick, a pet gerbil that lives in their van and a slew of soon to be stars (Demi Moore, Crystal Bernard). Lastly is Project Moonbase, a cheesy sci fi movie from 1953 which has been padded here with a few episodes of the old Commando Cody serial.
This set definitely ranks up there with some of the laugh out loud funniest episodes of MST3K. The Master Ninja 1 disc was definitely my favorite and had me in hysterics from start to finish. The other discs were each hilarious as well and to top it off, they include a wealth of bonus features. Included are a new interview with Master Ninja guest star Bill McKinney, Tom Servo vs Tom Servo 2010 Dragon*Con Panel, an Exploring the Look of MST3K featurette with Director of Photography Jeff Stonehouse and more. The box set itself has each disc in its own slimcase with artwork and 4 mini posters included too. The best part of all though is if you order it directly from Shout! Factory (
here
), you get a free MST3K Stress Ball! If you are a fan of bad movies or MST3K, then this is definitely a must buy. Or if you are just in the mood to laugh until you pee yourself, this set won't disappoint.
RATING: 9/10