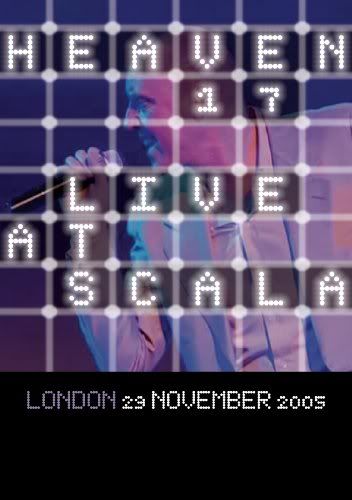 Heaven 17 is a synth pop band best known for their musical output in the 1980s, especially their number 2 hit single "Temptation". Formed in 1980 by vocalist Glenn Gregory and ex-Human League members Martyn Ware and Ian Craig Marsh, the band named itself after a fictional music group from the novel Clockwork Orange. After releasing several singles and albums in the 80's, the band went on hiatus but has reunited several times since then, including this 2005 concert in London.
Live at Scala shows Heaven 17 in an intimate setting in front of a small crowd of enthusiastic fans. The band itself include Gregory, Ware, Marsh and three female vocalists. Included are "Temptation", "(We Don't Need This) Fascist Groove Thang", "Let Me Go" and "Penthouse and Pavement" as well as 11 other singles and album tracks (new and old).
This DVD is a great representation of one of the many 80s new wave bands.. Playing new and old songs, singles and album tracks, you hear the band sounding just as good as it did 25 years ago. The sound is very clear and the singing by Glenn Gregory is especially good. If I had heard this live recording without seeing the video accompanying it, I would have guessed it was recorded in the band's prime. The electronic instrumentation (no guitar, bass or drums, just synthesizers and drum machines) sound great as well. The recent interview footage of Gregory and Ware is very informative and is a dream for fans, especially since they are answering fan-submitted questions. They touch upon how things have changed since the 80s and how different touring is now without major label support. It was actually a little depressing but the band members had a good attitude about it. Overall, this DVD is a great document of a classic synth pop band and anyone who loves 80s pop music will surely be want to check it out.
This title will be released on February 22nd 2011 and is up for pre-order from MVD
HERE
.
RATING: 7/10