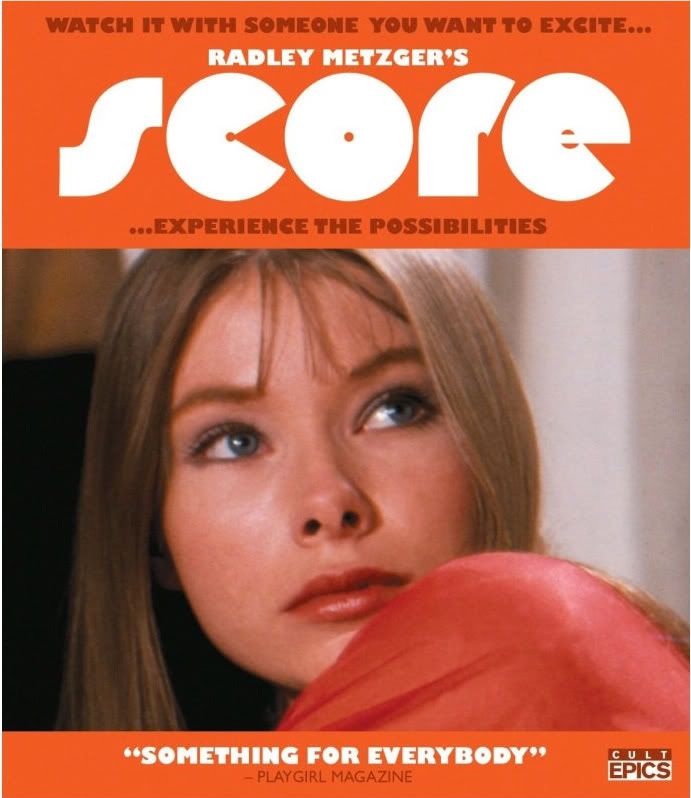 Ah, the uninhibited 70's. Gone were the days when women wore long skirts (and bras) and would only spell out the word S-E-X. In were the days when you could go to the rough part of town and see guys with expertly groomed mustaches and women with untamed pubic hair make hot monkey love to bad disco music on screen in a theater filled with trench coats and sunglasses. Your only care in the world being the sticky substance on the arm rests. The pornos of the 70's were much different than today - they seemed a little more legitimate I guess. They actually had a plot and acting (and by acting I don't mean just faking an orgasm). Films such as Deep Throat, The Devil and Miss Jones and Debbie Does Dallas popularized the 70's porno. I would add Radley Metzger's Score into this group as well.
Score is the story of Elvira (Claire Wilbur) and Jack (Gerald Grant), a couple who have a gigantic sexual appetite, which includes men, women, couples and telephone repairmen. They frequently have swinging parties and even a running contest going to see how many people they can seduce (hence the film's double entendre title). After seducing the previously mentioned telephone repairman (Carl Parker), Elvira goes after the innocent young Betsy (Lynn Lowry). Betsy and her husband Eddie (Calvin Culver) are invited over for some fun, which is actually a quest to seduce the young couple. Though who will end up in bed with who?
Score is a funny, sexy, imaginatively shot, erotic film about sexual realization. The whole cast (5 people!) are all very talented actors who seem very comfortable in the film. The film was originally a play (starring some guy named Sylvester Stallone as the telephone repairman!) and translates well to the screen. Though there are some hardcore scenes (including pretty much the whole last 20 minutes or so), the film was tastefully shot and more professional than your average adult film. Score is definitely not for everyone and depending on your interests, there may be some scenes you fast forward through but overall the film is a winner. I also wanted to mention the superb treatment given to this DVD/Blu Ray release by
Cult Epics
. For the first time since an old mail order VHS do we finally have the fully uncut version of the film. Several minutes longer than the previous DVD release, this is unquestionably the definitive release of Score. Also included is a director commentary, a 25 minute behind the scenes featurette and a new 20 minute interview with Lynn Lowry, who horror fans will definitely know from such classics as George Romero's The Crazies (and the remake), David Cronenberg's Shivers, Paul Schrader's Cat People and David Durston's I Drink Your Blood.
RATING: 8/10