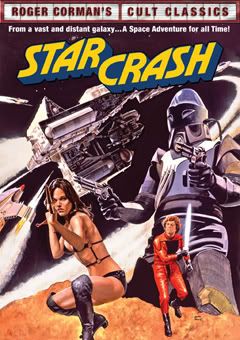 The Roger Corman Cult Classics line from
Shout! Factory
shows no sign of slowing down their exciting output of the Master's '70s and '80s films. Following such sought after titles as
Humanoids from the Deep
,
Forbidden World
and
Galaxy of Terror
, we are presented with Luigi Cozzi's cult sci fi film Starcrash, which is due to hit stores on September 14th. I actually sought out this film a few years ago, mainly because of its pairing of Joe Spinell and Caroline Munro, both from Maniac and Last Horror Film. The copy I saw was an unauthorized release under the title Female Space Invaders. Yup, that really was the title. I'm pretty sure my ass could fart out a better title, but I digress...
Starcrash is a Sci-Fi adventure featuring Stella Star (Munro) and her mystical partner Akton (Marjoe Gortner). They are caught by the space police for smuggling (I think, or some other illegal space activity) and are sentenced to hard labor. Fortunately the Emperor (of space?), played by Christopher Plummer (!?!) knows that Stella is the best star pilot out there and frees her to help him find his son Simon, played by David Hasselhoff (!?!) and destroy the evil Count Zarth Arn (Spinell).
According to the DVD's liner notes (by Starcrash expert Stephen Romano), this film was one of the first to exploit the success of Star Wars back in the late '70s. Though Roger Corman would later be responsible for another outer space expoitation masterpiece (
Battle Beyond the Stars
), Starcrash is itself quite an accomplishment. Though the film's budget, acting, special effects, story, dialogue and...well, I guess everything..about the film is laughable, it is undeniably fun and watchable. There are just too many factors that make this film more enjoyable than a lot of equally cheesy films. First and most importantly is the cast. Joe Spinell is my hero and I will watch him in anything. The same goes for Caroline Munro, and when they are together it's a no-brainer (that term could have a double meaning for this film). The fact they managed to get thespian Christopher Plummer is pretty amazing, but more amazing is that the film also has a young David Hasselhoff! Besides the wonderful cast, you also have a great score by frequent James Bond composer John Barry. His soundtrack here is not too far off from his other Science Fiction work (the Bond film
Moonraker
and
The Black Hole
) and helps the film feel more professional. Shout! Factory's 2 Disc set (available on DVD and Blu-Ray) is itself quite amazing, especially for this film. It seems like they crammed every possible detail out there about this film in the package, including deleted footage, interviews, a Caroline Munro retrospective, stills, trailers (with commentary by Joe Dante and Eli Roth), plus 2 (!) full length commentaries by Stephen Romano. Oh, it also has a 12 page booklet and the picture has been cleaned up nicely. Definitely a quality release for a fun, silly film with an unbelievable cast.
RATING: 7/10