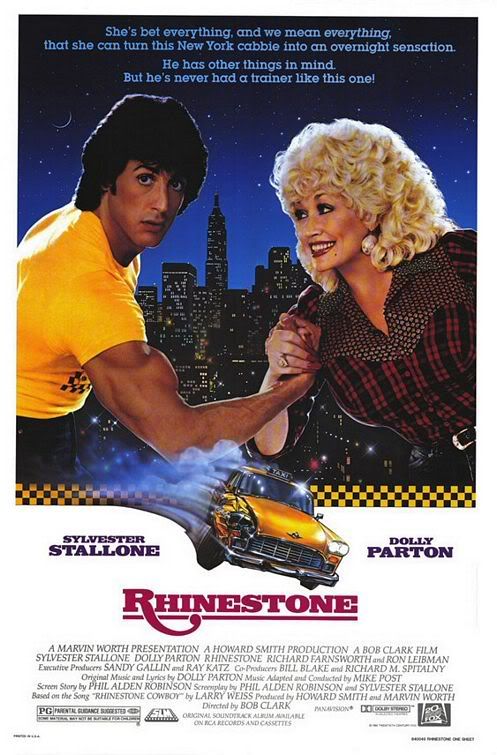 As I emerge from my mostly dormant state and start up the reviews, I thought I'd pick one that may surprise most of my followers. I assure you though, in B Movie Heaven there is a space reserved for Rhinestone. Though not necessarily a B Movie, considering its $28 million budget, you won't see this on any of AFI's top movie lists. Any film starring Sylvester Stallone and Dolly Parton, directed by Bob (Black Christmas/Christmas Story/Porky's/Children Shouldn't Play with Dead Things) Clark deserves to be seen by fans of bad movies. The reason this film came to my attention was when a friend (Jon Snodgrass from the awesome band
Drag the River
) asked if I could find a copy of the Rhinestone soundtrack and send it to him. I ended up listening to the soundtrack myself and hearing Sylvester Stallone singing country was...well....exactly what you'd expect it to sound like. Of course I instantly had to see the film.
Dolly Parton plays Jake, a country singer at Rhinestone, a NYC hillbilly bar who regrets her 3 year contract with horny slimeball manager Freddie Ugo (played by Ron Leibman). Basically she is stuck singing for him with no chance of moving up in her career. Until she makes a bet with Ugo that she can pick any person off the street and turn them into a country singer. In comes Nick Martinelli, a NY Cabbie with a big mouth and zero talent. Desperate to win the bet, Jake brings Nick back home to Tennessee where she tries to mold him into a country star. Besides the fact Nick is about as country as...well...Sylvester Stallone and an ex-boyfriend (Tim Thomerson) trying to get Jake back, she doesn't give up.
Is Rhinestone a great movie? Yes and no. The story is so stupid and far-fetched and the performances are hammy and over the top. At the same time, the film is actually a delightful watch with a fun story that doesn't take itself too seriously (how could it?). Despite the fact that Sylvester Stallone not only sings, but sings country, the music fits the movie perfectly and is tolerable even for those who hate country. Dolly Parton is lovable as the film's lead and seeing Tim (Trancers/Fade to Black) Thomerson as Parton's ex is pretty awesome too. Overall, I loved this film.
RATING: 8/10