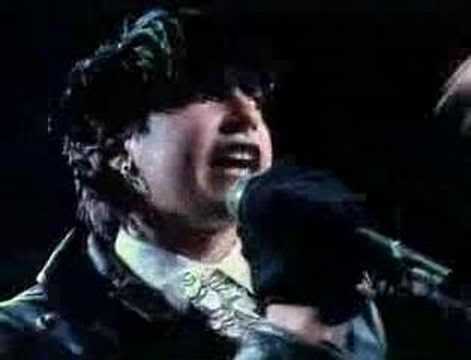 The time has come for the great Shout! Factory's re-releases of two punk rock classics, Penelope Spheeris' Suburbia and Allan Arkush's Rock and Roll High School on DVD. Both part of the new Roger Corman's Cult Classics line, these two releases are remastered and feature a TON of special features. Both will be released TOMORROW MAY 4th! Don't be a square, pick 'em up!
For those of you unfamiliar with these films, Suburbia is the story of a group of punks called T.R. (The Rejected) who live in an abandoned house and get hassled by the townspeople. The pic above left is of Jack Grisham from the legendary punk band T.S.O.L. performing in the film. Suburbia also features performances by The Vandals and D.I.
Rock N Roll High School is about a high school student named Riff Randell (Halloween's PJ Soles), who is obsessed with The Ramones and gets them to come play at her school starting a battle with the evil principal Miss Togar (Mary Woronov). Of course the pic above right is a scene with Riff Randell rockin' with The Ramones.
You can pick these up at Amazon using the links below, as well as the Rock N Roll High School Blu-Ray debut (available for pre-order, release date May 11th):