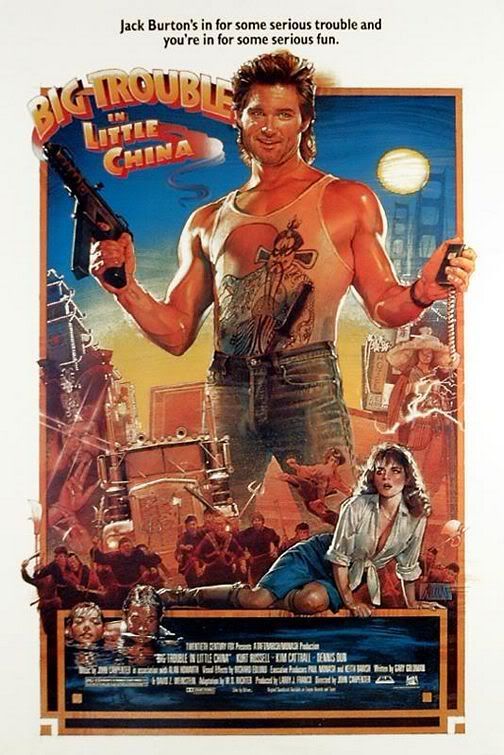 Big Trouble in Little China, another John Carpenter film, is one of the oddballs in Carpenter's oeuvre. Known mostly for horror films, Big Trouble is an action fantasy. Originally conceived as a western, it was then brought into modern times. The setting of the film (San Francisco's Chinatown) actually reminded me a little of Blade Runner, but the comparisons end there. I saw this film a few years ago for the first time and thought it was too far fetched and silly. I was expecting a more straight forward action film without the fantasy. I decided to give it another shot hoping to enjoy it more now that I knew what I was in for.
Jack Burton is a rough and tumble truck driver who, to put it nicely, tends to bite off more than he can chew. In other words, he's kind of an idiot, but a fearless one. After winning a bet with his friend Wang Chi (Dennis Dun), Burton agrees to take him to the airport to meet Wang's green eyed girlfriend Miao Yin (Suzee Pai) before collecting his payout. A group of gangsters kidnap Miao Yin and while trying to catch them, Jack and Wang (hee hee...Jackin' Wang...sorry) get stuck in the middle of a gang fight. They try to escape but meet up with the powerful sorcerer Lo Pan. They soon find out that Lo Pan needs to marry a green eyed woman to become human again, so they must rescue her. Along the way, they meet up with Gracie Law (Kim Cattrall), a lawyer who also has green eyes and also becomes a target for Lo Pan.
Fortunately, this time Big Trouble in Little China won me over. I still think the film was silly and far fetched but in a good way. The whole ancient Chinese magic mixed with kidnapping plot was very original and an off beat combo. All of the performances were great, especially Kurt Russell (with his John Wayne accent) and (pre-Sex and the City/post-Porky's and Police Academy) Kim Cattrall. Carpenter's use of state of the art special effects and crazy stunts are great fun to watch and barely seem dated 24 years later. All in all, I'm glad I gave Big Trouble in Little China a second chance.
RATING: 7/10