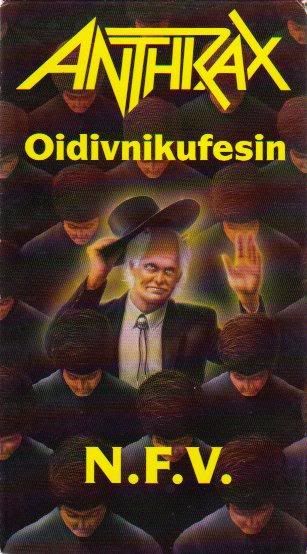 What is this? A music video? This isn't a B Movie or even a movie at all. Has Starmummy finally lost it? Well, for your information, the reason I am reviewing this video is simple: Because I fuckin' want to! So there. I've had this VHS for awhile and was glad when it was finally released on DVD in the USA as a bonus disc on the Among the Living reissue last year.
Anthrax circa 1987 many fans will agree was the absolute pinnacle of the band's career. They were touring in support of their latest album, Among the Living and were showing a step up in quality from their previous album Spreading the Disease (which itself was a great album). Anthrax's second singer, Joey Belladonna, had proven that he was a perfect fit for the band with his energy and impressive range. Guitarist Dan Spitz showed his technical side while rhythm guitarist Scott Ian (back when he had hair) shows that he can shred like the best of 'em. Drummer Charlie Benante and his nephew, bass player Frank Bello keep the beat going at the speed of lightning. The selection of songs they play includes some of their best (Metal Thrashin' Mad, Caught in a Mosh, Among the Living) and also has the band playing their hilarious goofball rap anthem I'm the Man. The film is interspersed with behind the scenes footage of the band and their crew (including future White Zombie drummer John Tempesta who was a drum tech for Anthrax).
Oidivnikufesin (read it backwards) is one of the finest concert videos I've seen. It features one of the greatest thrash bands of all time at the top of their game. The band members are all energetic and never run out of steam. The setlist doesn't have a single dud and the camerawork captures every angle of the show perfectly. The only gripe I have with the DVD is that the picture quality is a little fuzzy, as if it was ported directly from the VHS. I recommend everyone go out and pick up the reissue of Anthrax's best album Among the Living, which comes with the DVD debut of this monumental metal masterpiece.
RATING: 9/10