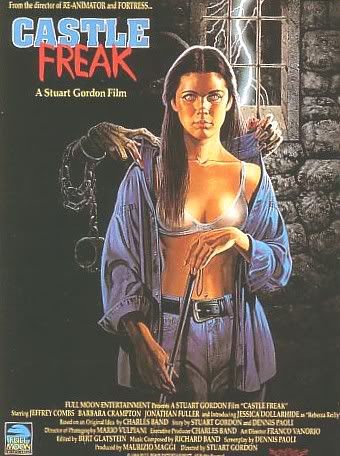 Stuart Gordon, best known for the horror classic Re-Animator, brings us another gory tale of the macabre. Reuniting Jeffrey Combs and Barbara Crampton, also from Re-Animator, I had heard good things about Castle Freak. I first read about the film in Fangoria's 101 Best Horror Films You've Never Heard Of and it definitely sounded like it could be something I'd like. I finally gave the film a chance, 5 years later.
The Reilly's inherited a castle in Italy and travel to go see it. The father John (Combs) is trying to keep his marriage with Susan (Crampton) together despite their grief over the death of their son due to a car accident involving John being drunk. Their daughter Rebecca (Jessica Dollarhide), who was blinded in the accident, keeps hearing something in the castle. Could it be haunted or could it be a disfigured freak named Giorgio who has been chained up in the castle for the last 40 years? Hmmm. I wonder.
Castle Freak lived up to the positive reviews I read for it. It's nasty, weird, violent and warped. The makeup effects were some of the best I've seen for such a low budget film and the cast are all perfect. Jeffrey Combs is great and completely off the wall in this film and the lovely Barbara Crampton shines as well. Overall, the film has a good subplot, action, FX and just about everything else. I'll admit that its a little silly at times, but it doesn't detract from the film.

RATING: 7/10