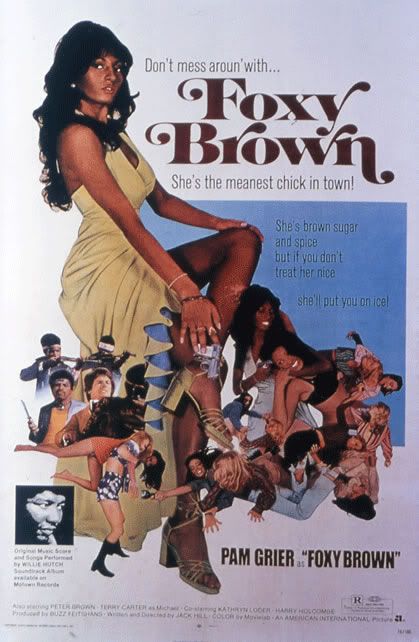 Originally conceived as a sequel to
Coffy
entitled Burn
Coffy
Burn!, the producers were against sequels so Hill rewrote it as a new character, Foxy Brown. Basically the same character as in
Coffy
, but there are a few small differences. Easily Hill's most well known film, which is kind of surprising it being an almost grittier version of it's predecessor. Continuing on with my Jack Hill and
Blax
reviews....
Heeeeeere's
Foxy.
Foxy Brown (Pam Grier) has a brother Link (Antonio
Fargas
) who can't seem to keep himself out of trouble. A drug dealer and user, Link is in trouble with his dealers because of some money that he owes them. Foxy helps him out, but after
Foxy's
undercover agent boyfriend Michael (Terry Carter) undergoes plastic surgery to hide his identity, Link sells him out to save himself. Foxy then goes undercover as a prostitute to get revenge on those responsible for Michael's death.
Foxy Brown is another Jack Hill,
Blaxploitation
and Action film classic. Pam Grier kicks major ass as Foxy and with a similar plot to
Coffy
, Hill actually manages to add in even more sleaziness. There are many shocking scenes in the film, especially when Grier is raped and shot up with heroin, not to mention the "present" that she delivers in a glass jar. Though not as tight as
Coffy
, Foxy Brown still delivers and has lots of action and great characters (especially Antonio
Fargas
as Link) to keep viewers more than entertained.
RATING: 8/10