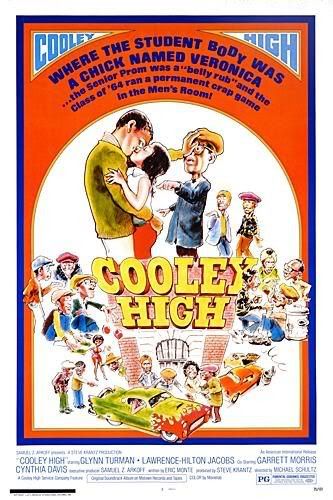 Remember
Boyz
II Men? I sure do. I always wondered where the album name
Cooleyhighharmony
came from? Now I know. They even covered a song from the soundtrack (It's So Hard to Say Goodbye to Yesterday by G. C. Cameron). Anyway, they were obviously fans of the film which has been described as a black version of American Graffiti, and fittingly so. I'll admit that Cooley High was never high on my "to watch" list, I kind of just threw it in hoping for something at least watchable.
Cooley High follows Leroy "Preach" Jackson (Glynn
Turman
) and his friend Richard "Cochise" Morris (Lawrence Hilton-Jacobs aka Freddie "Boom Boom" Washington from Welcome Back,
Kotter
). They are high school students who care more about having fun and getting chicks then school. After cutting class to go to the zoo, the boys get in trouble with their teacher Mr. Mason (Garrett Morris). Soon after, they get in trouble again, this time with the law when they are falsely accused for stealing a car. The unlikely ally Mr. Morris comes to their rescue, but the boys find themselves in trouble when the real criminals think they were ratted out.
I was pleasantly surprised by Cooley High. The film deserves the praise it has received over the years as one of the best films about the many ups and downs of teenage life. The film is frequently funny but is also at times dramatic and sad. The characters are well developed and are easy to identify with. All of the actors are excellent, especially
Turman
who completely immerses himself in his role of Preach with a broad range of emotions. Cynthia Davis, who plays Preach's love interest Brenda is also noteworthy (and super hot).
RATING: 8/10