As promised, here begins my Steven Seagal reviews. To be honest I had never seen a Steven Seagal film before. I know it sounds impossible and astonishing, but it's the truth. I do remember watching part of one on TV in the early 90's (I think it was Above the Law but I'm not sure), but that's it. I happen to work with two passionate Seagal fans and after hearing them talk about some of his films I just had to give them a shot. I decided to write up a few short reviews, mainly because I think these films can be summed up as such.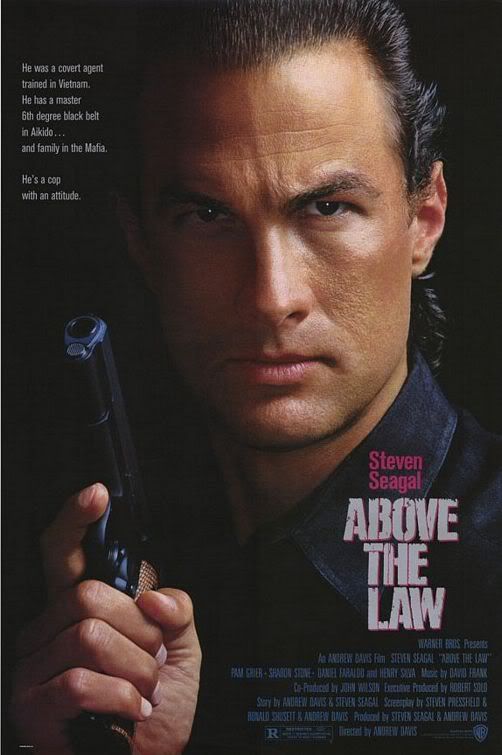 Above the Law (1988, Andrew Davis)
In Seagal's debut, he plays an ex CIA agent and Martial Arts master named Nico Toscani. He quit because he didn't agree with certain practices being performed on Vietnamese prisoners by a commanding officer Zagon (Henry Silva). Many years later, Nico is now a cop and gets mixed up with Zagon again as well as a bunch of illegal immigrants and drug dealers.
This was a great debut for Seagal, actually one of my favorites of the ones I watched. Seagal did the most karate (or Aikido) in this one and it was amazing how one blow to the chest and the villains would just fall. Overall a great action film with a decent story and a great villain (Henry Silva).
RATING: 4/5
Hard to Kill (1990, Bruce Malmuth)
Seagal's second film starts off with him as a cop named Mason Storm who is doing a little detective work trying to bust a case involving some mobsters and crooked politicians. After being spotted videotaping a meeting with the criminals, Storm's house is invaded and him, his wife and son are all killed...or so the criminals think. It turns out that Storm is still alive but is in a coma and being held in the hospital under the name John Doe. A British nurse named Andy (Kelly LeBrock) is caring for him and after 7 years, he finally wakes up. He is discovered to be alive by the criminals and is taken into hiding by Andy so that he can regain his strength and after some self acupuncture and a lot of training, Storm is ready to continue where he left off 7 years earlier.
Hard to Kill is a fun movie, though there are a lot of silly parts. Seagal waking up after a 7 year coma with a big burly goatee was hilarious. Why he only grew a goatee I will never know, but it was hilarious. Bill Sadler was great as the villainous politician trying to wipe out Storm and Kelly LeBrock was a perfect heroine for Seagal (they would later marry...and divorce). Not as good as Above the Law, but still watchable.
RATING: 3/5
Marked for Death (1990, Dwight H. Little)
Continuing on we have Marked for Death, the third Seagal film. This time he plays John Hatcher, a DEA agent who decides to retire after his partner is killed. He goes to stay with his sister Melissa (Elizabeth Gracen) and niece Tracey (Danielle Harris) and meets up with his old friend Max (Keith David). Max is disgruntled because he keeps seeing a group of Jamaicans selling drugs to kids at his school where he is a coach. Hatcher ends up killing a few of the Jamaicans, which we find out are part of a voodoo drug dealing gang lead by the evil Screwface (Basil Wallace). Screwface's gang ends up shooting and almost killing his niece, causing Hatcher and Max to seek revenge, which takes them to Jamaica where Screwface has fled.
Marked for Death is a step up from Hard to Kill. The story is more straight forward and Screwface proves to be one mean mofo. The voodoo angle was a little silly in parts, but it didn't detract from my enjoyment of the film. Marked for Death definitely had the most bone crunching courtesy of Seagal. It seemed like every villain who attacked him would end up having their arm bent in a way it shouldn't be bent or their spine being snapped (see my "vertabrae cracking" picture a few posts before this one). It was also cool seeing Danielle Harris from Halloween 4 and 5, as well as Rob Zombie's Halloween films (who I met last year) as Seagal's niece.
RATING: 3/5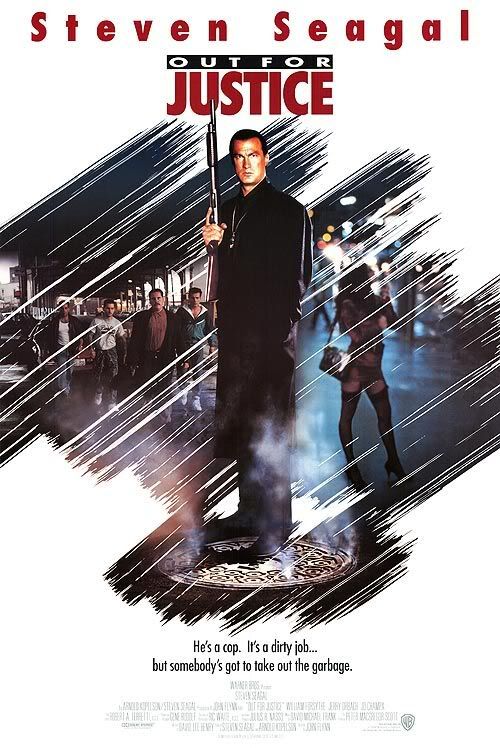 Out for Justice (1991, John Flynn)
Here, Seagal's fourth film, he plays Gino Felino, an Italian cop working in Brooklyn, where he grew up. He still sees all of the people from his childhood, some good and some bad. One of the bad ones, Richie Madano (William Forsythe, who I also met last year) has turned into a crack-smoking psychopathic murderer who must be stopped. It is now Gino's job to try to find Richie, through a series of lifelong neighbors and bring him to justice.
Out for Justice was probably the best Seagal film I watched, mainly because of William Forsythe. He is such a skilled actor and turned his portrayal of Richie into a very scary, brilliant performance. The scene where he gets out of his car and blows a woman's head off for telling him to move his car was chilling and just wrong. Seagal's performance and faux brooklyn accent was actually quite believable. Lots of violence and shooting and just a great action film.
RATING: 4/5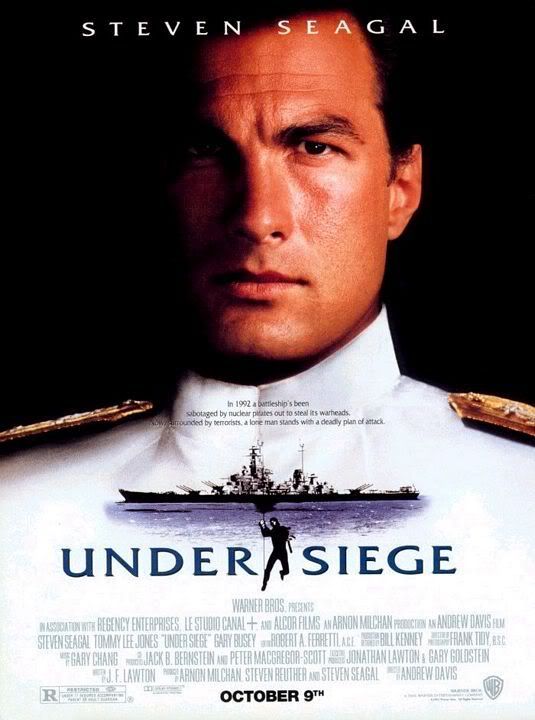 Under Siege (1992, Andrew Davis)
Under Siege finds Seagal as Casey Ryback, an ex Navy Seal who is now the personal chef for Capt. Adams (Patrick O'Neal) who is heading a group of sailors on a Navy Battleship armed with a bunch of missiles. A band and a playboy playmate (Erica Eleniak) are flown in as a surprise for the Captain's birthday but it turns out the band are actually a bunch of terrorists (led by Tommy Lee Jones) who are in cahoots with some of the sailors to take over the ship. It is now up to Casey to try to take the ship back.
Under Siege had its moments but overall it was a little too much. Seagal is locked in a freezer for the first half of the film and when he gets out the film just takes a little too long to get to it's climax. It wasn't a bad film, but I definitley preferred his earlier movies where Seagal is out fighting crime. Tommy Lee Jones was excellent as Stranix, and ex military man who got screwed over and is now getting revenge.
RATING: 2/5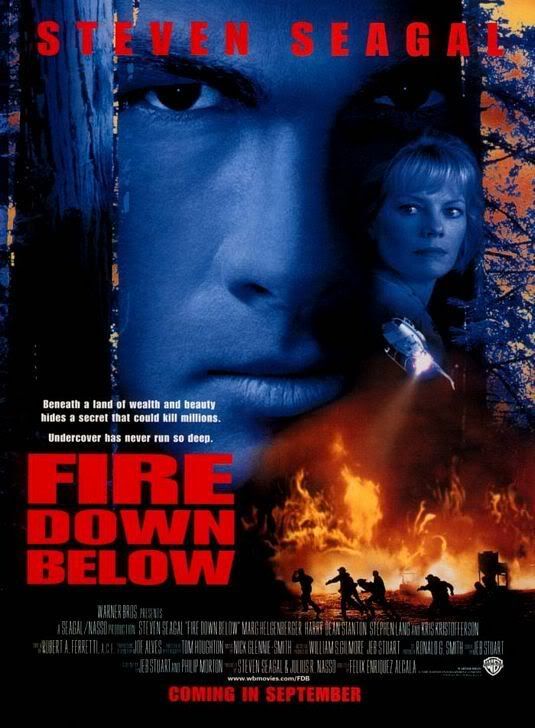 Fire Down Below (1997, Felix Enriquez Alcala)
Here we have Seagal as an EPA investigator named Jack Taggart investigating Jackson, Kentucky - a small town where his friend and fellow agent was recently found dead. Jack received an anonymous letter from Jackson stating that something is being dumped into their water causing fish and people to die. Jack goes undercover as a handyman passing through town to help the people of Jackson fix anything that needs fixin'. He discovers that local millionaire Orin (Kris Kristofferson) is responsible for dumping the chemicals into the water and must find a way to stop it, without being killed by a bunch of suspicious rednecks.
Fire Down Below was a good addition to Seagal's filmography. It had a solid story and some really good fight/action scenes. Seagal also had a fairly believable southern drawl too. Marg Helgenberger as local misfit Sarah proves to be a decent love interest for Seagal and the performances by other well known actors and/or musicians (Kristofferson, Harry Dean Stanton, Levon Helm, Randy Travis) were also good. Some people might gripe at the "message" of the film and how Seagal movies should be about compound fractures and not messages, but in this film I think there was a good mix of the two.
RATING: 3/5