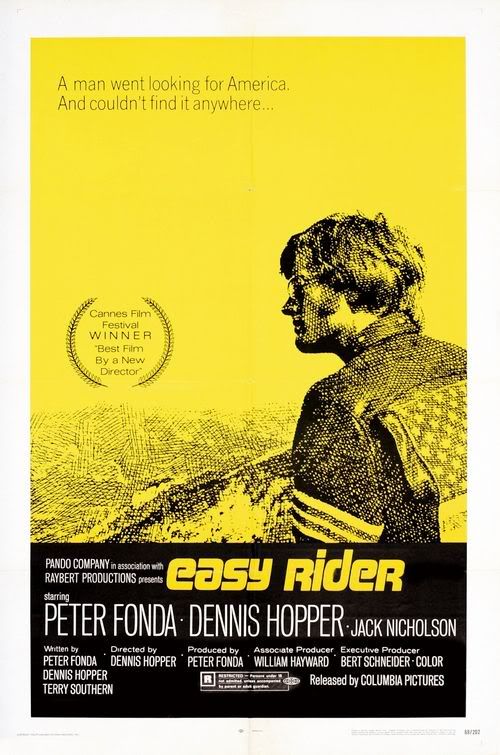 Now that my Howling marathon has ended, I thought I would treat myself with a real classic. I saw Easy Rider a few times as a teenager and loved it. I've been meaning to check it out again but just hadn't gotten around to it until now. Actually the thing that made me go get this out of the library today was The
Byrds
. I've been listening to them a lot lately, along with the Easy Rider soundtrack (which features the brilliant
Byrds
classic I Wasn't Born to Follow and two Roger
McGuinn
solo songs It's Alright Ma (I'm Only Bleeding) and Ballad of Easy Rider). Anyway, the mood served me so I popped it into ye ole DVD player and that's that.
Easy Rider, the
quintessential
biker movie, stars Peter Fonda as Wyatt (aka Captain America) and Dennis Hopper as Billy, two dope smoking bikers who score some cocaine and then turn around to sell it to fund a cross country trek to "find America". Along the way they meet lots of colorful characters, including an alcoholic lawyer (Jack Nicholson), a bunch of rednecks, a
hippy
commune and two hookers (Karen Black and Toni "Hey Mickey You're So Fine" Basil). As they ride around they see the real America, from the beautiful scenery to the ugly hatred from those who don't understand them.
Easy Rider is a classic and one of the best road movies out there. The characters are all fascinating and the actors portraying them all hit the nail on the head, adding something unique to each situation the two
protagonists
are involved in. Hopper, Fonda and Nicholson are all perfect for their roles (which they basically created). Many of the small roles in the film are played by local towns people in whatever town they were filming in at the time and it really makes the film feel more genuine and real. This film really has everything - great music, humor, stunning direction, editing and
cinematography
and several messages meant to be
contemplated
and interpreted by the viewer.
RATING: 5/5