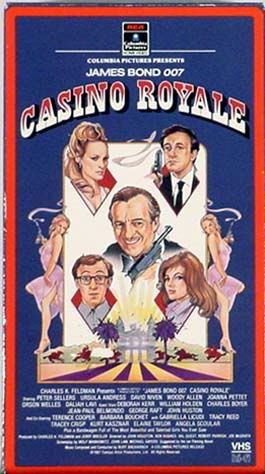 When most folks hear the name Casino
Royale
they instantly think of the 2
nd
to last Bond film starring Daniel Craig as Bond (in his debut performance in the role). The fact Casino
Royale
was finally made into an "official" Bond film so long after the series debuted in 1962 is a funny story. Casino
Royale
was the first James Bond novel written by Ian Fleming way back in 1953 and
unbeknownst
to most, it was made into an American TV movie the following year, starring Barry Nelson as Jimmy Bond (an American secret agent) and Peter Lorre as the evil Le
Chiffre
. When the Bond film series started up in the 60's, they didn't have the rights to Casino
Royale
so it was never made. But then, at the height of Bond-mania, the owners of the rights decided to cash in on this phenomena and make a film of Casino
Royale
. Though instead of making a straight forward action film like the rest of the series, they decided to make a spoof of the series
featuring
the top comedic actors of the time. Being the huge James Bond fan that I was, I stumbled upon Casino
Royale
browsing through my local video store. I had a book detailing all of the official Bond films, but it left out Casino
Royale
(and the other unofficial Bond film, Never Say Never Again) so I never even knew it existed. Anyway, I rented it expecting a great 60s Bond films (as the others were) but was very disappointed. I hated it so much and though I have seen the other films in the series all multiple times over the years (at least up through
Goldeneye
), I didn't revisit Casino
Royale
until a few years ago.
Casino
Royale
follows a retired James Bond (David Niven) returning to the secret service after the death of his boss "M" (John Huston). He decides to recruit a whole group of secret agents and have them all go by the name James Bond 007 to throw off their enemies. The main enemy of which is
SMERSH
and Le
Chiffre
(Orson Welles), a card player (and magician!?!) who is being funded by
SMERSH
. One of the new James Bonds, a card expert named Evelyn Tremble (Peter Sellers) is brought in by fellow agent Vesper
Lynd
(Ursula
Andress
) to win against Le
Chiffre
. It is also discovered that a greater evil is out there in the form of James Bond's dorky nephew Jimmy (Woody Allen), who has a plot cooked up of his own.
Casino
Royale
is definitely not for everyone, especially fans of the more serious Bond films. It is true that the film is silly and not what you would expect, but it is still a brilliant film. What I love most about this film is the feel and the atmosphere. Never have I seen a film so "sixties" as Casino
Royale
. The set designs, sixties
British
humor a la The Pink Panther series (which also features Peter Sellers and David Niven) and the hallucinogenic camera work are all just perfect. Normally when a film is as dated as this it becomes distracting, but in the case of Casino
Royale
, that is what is so great about it. Watching this film almost transports you into that time like few other films can. The cast is all brilliant and the scenes with Woody Allen and Peter Sellers are particularly are hilarious. There are some great action scenes too to appeal to the average Bond fan and some of the most beautiful Bond girls as well. Ursula
Andress
(who was also in the first Bond film Dr. No) is probably the single most beautiful Bond girl out of the entire series. Barbara
Bouchet
as
Moneypenny
and Joanna
Pettet
as Mata Bond (the illegitimate daughter of James Bond and famous spy Mata
Hari
) aren't far behind. David Niven plays a great aging, debonair Bond and apparently was Ian Fleming's original choice for Bond. Overall this film is brilliant and easily the best of the 60's spy spoofs I have seen. There is so much going on in this film (there were 5 directors each directing different scenes) that it may take a few watches to absorb it all, but it is well worth it.
RATING: 5/5