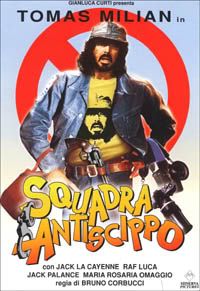 Continuing on with the
Poliziotteschi
reviews is a film that is actually the first in a long series of films featuring undercover cop Nico
Giraldi
. Directed by Bruno
Corbucci
(
Django
director Sergio's brother) and portrayed by Tomas
Milian
,
Squadra
Antiscippo
(aka Cop in Blue Jeans) introduced us to the ex-crook turned cop
Giraldi
. From what I've read on this series, it seems that the later films turn more comedic but Cop in Blue Jeans is a great example of a prime
Poliziotteschi
.
Milian
plays Nico
Giraldi
, an undercover cop who never takes his hat off (perhaps he is going bald or something, I'm not sure) even when making
whoopie
. He takes the "undercover" dress code of his hero
Serpico
(from the Al Pacino film) as pretty much a way of life, helping him infiltrate crime rings. After a group of thieves accidentally steals $5 million from crime boss Norman Shelley (Jack
Palance
), all hell breaks loose and it is up to
Giraldi
to go undercover and enforce justice.
At first, Cop in Blue Jeans seems like a
Serpico
ripoff, until you see
Giraldi's
apartment which is littered with posters of
Serpico
. He even has a pet mouse named
Serpico
. I'm not sure if the producers decided it would be better to make
Giraldi's
character an open fan of
Serpico
than a blatant ripoff (perhaps to avoid any lawsuits). For those of you who have seen
Serpico
and know of its status as a classic 70's cop film, I'll be honest and say that I actually liked Cop in Blue Jeans better. Cop in Blue Jeans was pretty much non-stop action with
Milian's
chameleonic
acting expertise guiding us through the life of this offbeat character. One thing that blew me away about this film is the
stuntwork
, particularly the motorcycle stunts.
Giraldi
manages to make his motorcycle do next to impossible jumps and thinks nothing of riding up stairs or off rooftops. The editing was surprisingly well too. It's obvious that there is no way that
Milian
would be doing those stunts but there wasn't a single time when I could tell it wasn't him. The film also has its comedic moments, the best of which is when
Giraldi
masquerades as a bitch-
slappin
' pimp. Overall, a very enjoyable, action-packed film.
RATING: 4/5