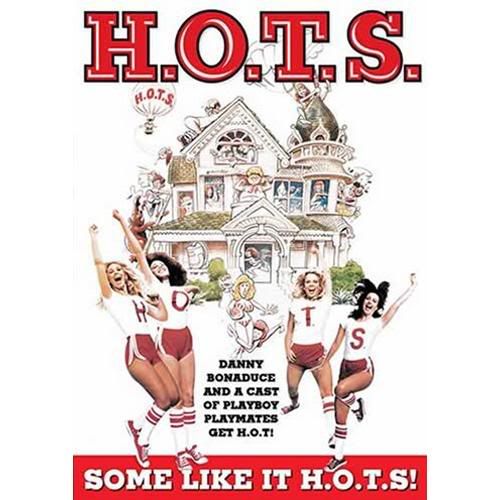 Back when I was a teenager, I was kind of a dork. I was too scared to talk to most girls so I used movies as a way to escape. I would imagine that I was in whatever movie I was watching. Obviously my favorite movies were movies about teenagers, mainly teen comedies and horror flicks from the 70's and 80's. I loved the Meatballs movies,
Porkys
, Pom Pom Girls..so many I am forgetting. One movie I looked everywhere for but couldn't find was a little film I caught bits and pieces of on late night HBO featuring Danny
Bonaduce
from the Partridge Family and a bunch of Playmates. Well folks, here it is about 10 years later, H.O.T.S.!!!!
H.O.T.S. (the letters stand for different things throughout the film) is the story of a bunch of college girls who are rejected from their college's sorority of
hotties
, PI. They decide to start their own Ecologically-friendly group called Help Out The Seals (get it, H.O.T.S.). They don't use the word sorority so they don't have to obey the college's rules that sororities do. After a string of incidents between PI and H.O.T.S., including a
catfight
between the two groups' leaders during a wet t-shirt contest, topless skydiving and tricking Richie Walker (Danny
Bonaduce
) into going to bed with a seal, they decide to end the feud once and for all with a game of Strip Football.
What can I say? This film is technically terrible, but at the same time brilliant. The acting and the story (including a subplot with a couple of bumbling crooks) are about as bad as it gets. But
c'mon
, who cares? If you take the time to watch a movie like this, you know what to expect. The movie is silly, fun and actually very watchable. I actually wish I was able to track this down when I was a teenager because I know I would have loved it. But you know what, I still love it. Way more than I should in fact. For the type of movie it is, it is perfect.
RATING: 5/5