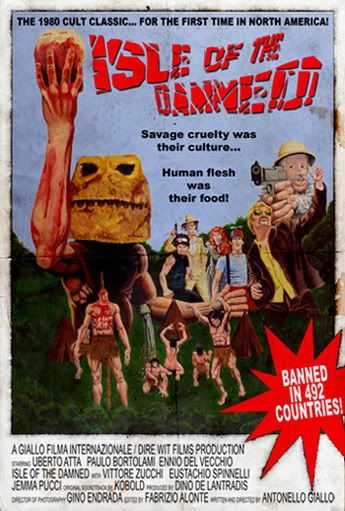 So out of the blue I get this email from someone named Brain Leake asking if I would review his company Dire Wit Films' new movie. Hellz Yeah! Finally someone is sending me a movie to review. It came today and I swore I felt just like a young (and slightly skinnier) Ebert must have felt when he received his first screener. I looked it up online and apparently it has played at a few theaters and will be released on dvd next year.
Isle of the Damned follows private detective Jack Steele and his adopted son Billy on a search to find the lost treasure of Marco Polo. They hire a group of pirates to bring them to the island where the treasure is supposedly hidden, which turns out to be an island of cannibals. They soon discover there are other inhabitants on the island, one of which knows where the treasure is.
Isle of the Damned is a hilarious spoof of the 70's Cannibal films (many of which I have reviewed already). The best thing about it though is that it has all the disgusting cannibalism, torture, dismemberment, castration and whatnot that made those films classics..and a whole lot more. There are lots of fake mustaches, bad dubbing, pirates, cheesy music and some very uncomfortable (and hilarious) homo-eroticism. I really hope this film gains the cult classic status that it so desperately deserves. It's very rare that you see a spoof actually improve on the genre it is making fun of. I hope I receive more screeners in the future but something tells me few will live up to Isle of the Damned.
RATING: 5/5