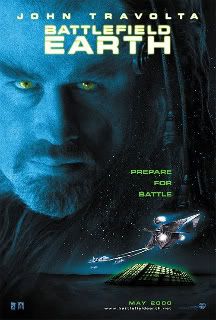 So I was reading this book called Fiasco: A History of Hollywood's Iconic Flops and one of the films it discussed was Battlefield Earth. Something I had never seen before and never really wanted to. I remember when it came out and seeing John Travolta dressed up in that ridiculous Rastafari alien costume and just thinking how amazing it was that anyone would make this film, let alone a huge star like John Travolta. After reading what a suckfest it was, something intrigued me. It's like when you hear that someone puked outside and you can't help but run out and look at it, though you know it will make you nauseous.
Battlefield Earth takes place in the year 3000. The aliens from the planet Psychlos have taken over Earth, leaving mankind an endagered species. The only survivors must hide from the aliens in primitive caves. One of the humans, Jonnie "Goodboy" Tyler - aka "Ratbrain" (Barry Pepper) decides he needs to find a better life, even if it means leaving his love behind. He is soon captured by the Psychlos, led by John Travolta's annoyingly unfunny Terl (way too close to "Turd" to be a coincidence) and his sidekick Ker (Oscar winner Forest Whitaker). While imprisoned, Jonnie learns of Terl's plans to double cross his fellow Psychlos and leads the other humans in a revolt to take back their planet and destroy the aliens.
This movie is embarrassing, stupid and unintentionally funny. The first half of the film was like a test to see how bad a Hollywood movie could be. I'll proudly admit though that I couldn't help but get hypnotised by it and really engrossed in what was going to happen. This movie was really bad, though I actually found it enjoyable.
Rating: 2/5