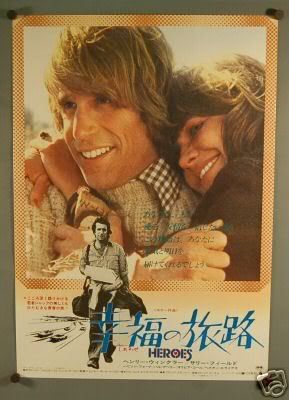 Have you ever stumbled upon a movie you never even knew existed and it ended up really moving you? I came across Heroes that way. I must say that i am grateful for it.
Heroes is the story of Vietnam vet Jack Dunne (Henry "the Fonz"
Winkler
), who escapes from a Veteran's Hospital with a crazy plan to start up his own business using money from his fellow inpatients. Jack sets out on a cross country bus ride to visit three of his buddies from 'Nam, who are also prospective partners in Jack's new business venture. On the way he meets Carol (Sally Field), a runaway bride who can't decide whether she should go back to her fiance or tag along with Jack. Will Jack's plan work out or will his traumatic past get the best of him?
Heroes is another film that I'm surprised I had never heard of before discovering it recently. The cast is what made me take a chance on it and I was not disappointed. I loved Henry
Winkler
in
Nightshift
and I wanted to see more of his films from that era. Sally Field also gave a great dramatic performance, as did Harrison Ford in one of his early roles. Heroes is funny and sad, but most of all very touching. You can't help but feel sorry for
Winkler's
character and really hope he can
fulfil
his dream.
RATING: 5/5