Ok folks, here's the blog entry you've all been waiting for. So last Friday night I went to the 5th annual Rock and Shock Horror Convention/Concert in good old Worcester, MA (pronounced Wuss-ter if you're not from around here...or Wuss-tah if you are). This is the first time I went and what a great experience it was. There were lots of Horror memorabilia, tattoo artists, makeup effects people and other random weirdness. It was fun walking around and looking at all of this great stuff, but the highlight was the horror celebrities. Among the people I didn't meet were Corey Haim and Brooke McCarter from The Lost Boys, Derek Mears (Jason from Friday the 13th 2009), Jason Mewes and Brian O'Halloran from Clerks, Chris Sarandon and Stephen Geoffreys from Fright Night, Zach Galligan from Gremlins, Tony Todd from Candyman, Doug 'Pinhead' Bradley from Hellraiser and several more. Here are the guests I did meet:
Tom Savini (Makeup Effects wizard for Friday the 13th part 1 and 4, Dawn of the Dead, Day of the Dead, Creepshow, The Burning and many more). He was very interesting and had a fondness for shooting rubber bands at Corey Haim the whole time. He was kind enough to sign my hardcover copy of his Grande Illusions book.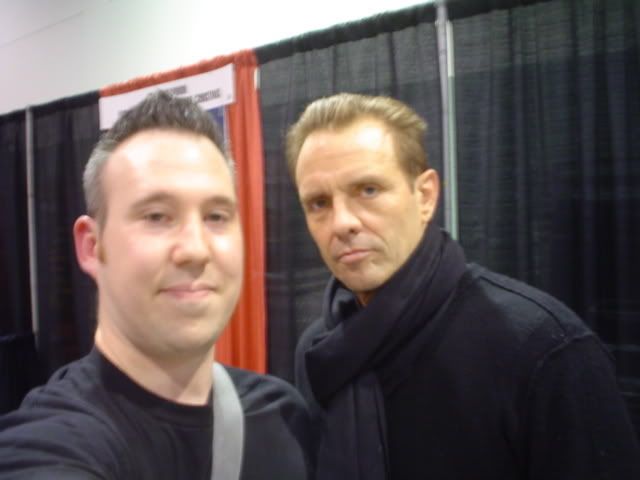 Next up was Michael Biehn, aka Kyle Reese from one of my all time favorite films since I was a teenager, The Terminator. He was also in Aliens too. Very cool guy.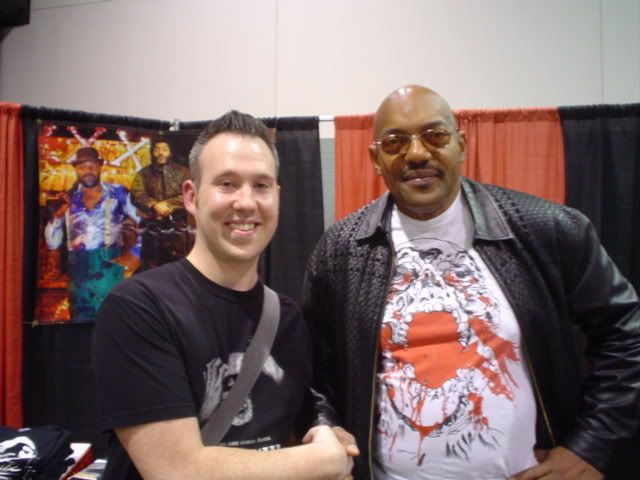 Then came Ken Foree, aka Peter from another one of my favorite films, Dawn of the Dead. He was also in Leatherface: Texas Chainsaw Massacre 3, The Devil's Rejects and Rob Zombie's Halloween. Ken was very funny and easy to talk to.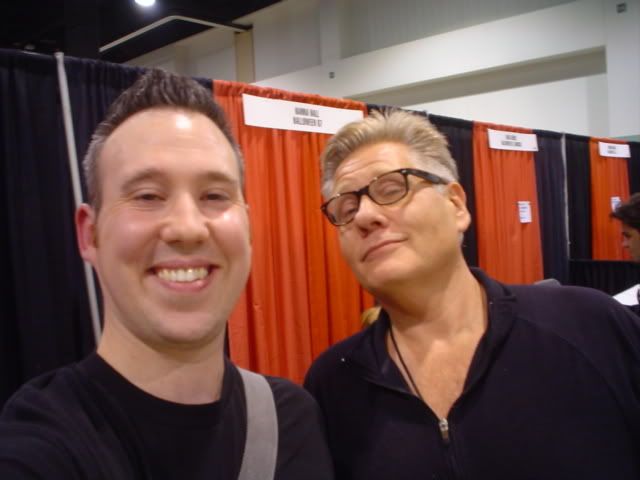 After Mr. Foree, was the brilliant William Forsythe. This man is one of the greats, appearing in recent films like Devil's Rejects and Rob Zombie's Halloween as well as Dick Tracy (as Flattop) and (another all time favorite) Sergio Leone's Once Upon a Time in America. William was very down to Earth and nice enough to answer all of my questions about his incredible career.
Danielle Harris, aka Jamie Lloyd from Halloween 4 and 5 as well as Annie Brackett in Rob Zombie's Halloween, was next. She was super nice and signed my Halloween 4 Dvd. Yay!
Last, but definitely not least, was old Choptop himself, Mr. Bill Moseley. Bill, who has appeared in House of 1000 Corpses, Devil's Rejects and Silent Night Deadly Night 3 (among many others), was wildly zany and did a bunch of his signature Texas Chainsaw Massacre 2's Choptop voices.
Meeting all of these people whom I have been a big fan of for a long time was a great experience. They were all more than happy to talk and answer my stupid questions. Thanks guys, and keep on choppin'!