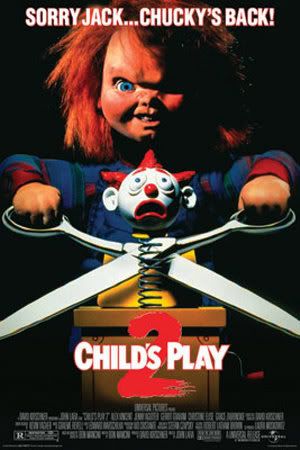 Chucky's back and even more vulgar than the first time we saw him. It was only a matter of time (two years to be exact) before Chucky joined Freddy, Jason and Michael as his very own Horror franchise.
This time Andy, the boy terrorized by Chucky in the first film, is living in a foster home after his mother was locked away. Chucky, on the other hand, has been refurbished by the company that made him and he escapes to find Andy. Andy's new foster parents don't believe his stories about the killer doll...until it's too late. It is up to Andy and his foster sister Kyle to stop Chucky before he can take over Andy's body and become human.
Child's Play 2 is a good continuation of the story of Chucky. There is a lot of humor, gore and scares. Not as good as the first but still pretty solid. The cast is also fun ensemble for Horror fans, including Jenny Agutter from An American Werewolf in London and Gerrit Graham from Phantom of the Paradise.
RATING: 3/5